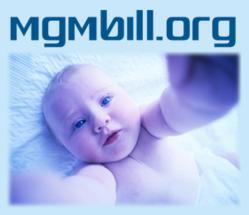 It is never okay to cut off a healthy body part from a minor
San Diego, CA (PRWEB) January 24, 2012
Children's right activists from coast to coast have joined together this month to press more than 2,200 lawmakers in Congress and eleven states to enact the Male Genital Mutilation Bill. The proposed bill would protect boys from forced circumcision the same way that girls are protected under federal and state laws.
As director of MGMbill.org's Florida office, Stacey Butler is leading the effort in her state to make Section 794.08 of Florida's Sexual Battery Code gender neutral. "All children deserve to be protected from forced genital cutting," said Butler, a licensed practical nurse and mother of three living in Palm Bay. "Although every girl in America has a legal right to genital integrity, we still allow boys to be circumcised for medically unnecessary reasons. That needs to change. One person at a time, one child at a time, we will make a difference!"
Another mother from Lakeville, Minnesota, feels much the same way. "It is never okay to cut off a healthy body part from a minor," said Kandace O'Neill, director of MGMbill.org's Minnesota state office. "I'm a part of the intactivist movement because I feel it's very important that people understand the gravity of what's being done to boys via infant circumcision. When it's forced onto girls, we call it 'genital mutilation'. Is it really any different when it's forced onto boys? I would argue that it is not. This is a human rights issue."
Circumcision was one of the world's top human rights issues of 2011. In San Francisco, residents were all set to vote on a male genital cutting ban when a judge struck the measure from the ballot over the summer in response to a lawsuit filed by the circumcision lobby. Soon after, California passed a statewide law forbidding all its cities and counties from enacting similar ordinances.
The year also saw "Foreskin Man" become one of the most talked about comic books in the press, and actor Russell Crowe created a media firestorm in June when he publicly stated that "circumcision is barbaric and stupid". A few months later, the 40,000-member-strong Royal Dutch Medical Association called on politicians, insurance providers, and human rights organizations to help put an end to circumcision, describing it as a "painful and harmful ritual".
The debate over genital integrity is already spilling over into 2012. After years of legal wrangling, Finland is once again treating circumcision as a crime after convicting a ritual circumciser of assault and battery earlier this month for circumcising two Muslim boys. A battle is also brewing in Congress over a bill sponsored by U.S. Rep. Brad Sherman, a Jewish circumcision proponent from Sherman Oaks, California. Entitled the "Religious and Parental Rights Defense Act", H.R. 2400 would prevent any U.S. state or municipality from prohibiting forced circumcision of minors.
Matthew Hess, president of MGMbill.org, said time is running out for lawmakers to decide which side they are on. "Circumcision promoters are attempting to enshrine the practice of mutilating a boy's genitals into U.S. law," said Hess. "If H.R. 2400 passes, no U.S. state, county, or city will be allowed to enact statutes that protect boys from circumcision. I urge any state legislator who wants to sponsor the MGM Bill to step forward now, because next year may be too late."
In addition to submitting the MGM Bill proposal to all 541 members of Congress this month, MGMbill.org submitted similar versions to every state lawmaker in Alabama, California, Florida, Illinois, Maine, Minnesota, New Mexico, New York, Oregon, South Carolina, and Wisconsin.
###