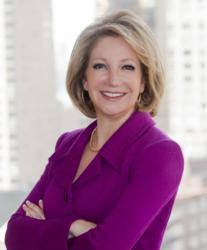 Providence, RI (PRWEB) January 24, 2012
Leadership Expert Susan Tardanico will be a featured speaker at the Women's Summit®, hosted by Bryant University on March 15. The annual conference, which will convene 1,000 professional women from southeastern New England, offers a range of content focused on helping women achieve career success. The 2012 summit is themed "15 Years of Empowering Women." Registration opens today.
Tardanico, who is CEO of the Authentic Leadership Alliance, Executive in Residence at the Center for Creative Leadership and former senior corporate executive and broadcast reporter, will speak and lead a workshop on authenticity and career reinvention.
"Leadership fundamentally begins on the inside. In order to be effective leaders of others, we must first be effective leaders of ourselves," said Tardanico. "By clarifying, aligning and unlocking our authenticity – our unique values, strengths, passions, purpose and vision -- we are able to gain the clarity and confidence to lead ourselves and others more successfully, and reinvent our careers to achieve greater success and fulfillment."
This year's conference marks the 15th anniversary of the Women's Summit, which has become so popular that tickets usually sell out within two weeks.
"The Women's Summit will be celebrating an important milestone in 2012," said Director Kati Machtley. "We are proud to have made an impact on thousands of women over fifteen years, and I am particularly excited about this year's roster of distinguished, inspiring and informative speakers, including Susan Tardanico."
In addition to her roles at the Authentic Leadership Alliance and the Center for Creative Leadership, Tardanico is a professional speaker, addressing corporate, civic and professional groups around the country. She also lectures on leadership strategies at Georgetown and NYU graduate schools and writes for Forbes and ForbesWoman. She is a 23-year veteran of corporate America, most recently serving as Vice President and Corporate Officer of Textron Inc, then a $14 billion multinational company.
As a Women's Summit speaker, Tardanico joins other luminaries such as Mika Brzezinski and Joe Scarborough, co-hosts of MSNBC's Morning Joe and authors of multiple best-selling books; Carla Harris, Managing Director of Morgan Stanley and author of Expect to Win: Proven Strategies for Success from a Wall Street Vet; Academy Award-winning actress Marlee Matlin; social media guru Mari Anne Snow and a range of other experts and distinguished speakers across multiple fields and disciplines.
About the Women's Summit
To register for the 2012 Women's Summit, click here.
About the Authentic Leadership Alliance
The Authentic Leadership Alliance LLC (ALA) is a leadership and communications consultancy that helps people maximize their potential as leaders of themselves and others. ALA works with CEOs and executive teams at major corporations, in the political arena and at nonprofit organizations. It also focuses on entrepreneurs, women and emerging leaders. http://www.authenticleadershipalliance.com
About the Center for Creative Leadership
The Center for Creative Leadership (CCL®) is a top-ranked global provider of executive education that accelerates strategy and business results by unlocking the leadership potential of individuals and organizations. Founded in 1970 as a nonprofit educational institution focused exclusively on leadership education and research, CCL helps clients worldwide cultivate creative leadership - the capacity to achieve more than imagined by thinking and acting beyond boundaries. Ranked among the world's Top 5 providers of executive education by Bloomberg, BusinessWeek and the Financial Times, CCL is headquartered in Greensboro, N.C., with campuses in Colorado Springs, Colo.; San Diego, Calif.; Brussels; Moscow; Singapore; Pune, India and Addis Ababa, Ethiopia. Its work is supported by 500 faculty members and staff. http://www.ccl.org
###