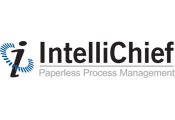 It's an especially useful new product for mobile workers who don't have access to their computer screen daily or whose schedule takes them away from their desktop
Mansfield, MA (PRWEB) January 26, 2012
IntelliChief LLC, the leading provider of document management and document imaging solutions for the IBM i (System i, iSeries, AS/400) Enterprise, today announced the development of IntelliChief Mobile™.
IntelliChief Mobile extends i Series, and other documents so that they can be easily accessed in an instant, from any location, at any time. With an Apple®, Android®, or Windows® Mobile device, users may connect to their IntelliChief Document Management system dashboard and customized inboxes via URL and search, retrieve, view, sort, and manage their documents.
Whether in a conference room down the hall or in a café across the world, with IntelliChief Mobile, users have fingertip access to all of their document types including invoices, POs, check requests, as well as corresponding document annotations and history.
"IntelliChief is excited to be able to offer our customers a bridge to content taken from their ERP and/or other business applications through our IntelliChief Mobile product. It's an especially useful new product for mobile workers who don't have access to their computer screen daily or whose schedule takes them away from their desktop," said Brian Smith, Director of Marketing at IntelliChief.
IntelliChief will be hosting webinars that show this technology in action in the near weeks ahead.
About IntelliChief
IntelliChief, is the leading provider of Paperless Process Management (PPM) solutions for the IBM i (System i, iSeries, AS/400) Enterprise. With decades of expertise in the market and seamless integration with leading ERP software vendors, IntelliChief takes companies of all sizes paperless with a typical ROI of less than one year. Users can create, capture, manage, archive, retrieve, and distribute mission-critical documents directly from their familiar ERP screens, eliminating the need for filing cabinets, storage facilities, fax machines, copiers, and paper files.
# # #