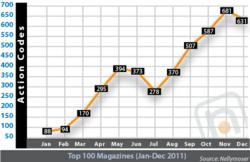 The average number of codes per magazine issue grew – from 2.33 in Q1 to 6.50 in Q4 2011.
Arlington, MA (PRWEB) January 26, 2012
QR codes and other mobile action codes, including Microsoft Tags and 2D barcodes, grew a dramatic 617% from January to December 2011 in the Top 100 U.S. magazines, according to an in-depth study released today by Massachusetts-based Nellymoser, a mobile marketing and technology company. Advertisers drove the majority of QR and action code growth. From January to December, the percent of ad pages containing a code jumped from 3.6% to 8.36%.
For its latest study, Nellymoser analyzed the top 100 U.S. magazines by circulation and analyzed the published issues from January to December 2011, covering 164,255 pages. The company scanned every QR and action code, activated every campaign, ran every video and visited every web page. Findings showed significant growth in many areas including:

The monthly count of codes printed in the top 100 magazines grew from 88 in January to 631 in December.
Advertisers contributed heavily to the growth. The monthly percentage of codes from advertising increased from 87% in January to 96% in Q4.
The average number of codes per issue grew – from 2.33 in Q1 to 6.50 in Q4.
QR market share increased from 66% in January to 80% in December.
Almost all codes in Q4 led to product demonstrations, branding videos, sweepstakes, e-commerce and/or social sharing sites.
"The remarkable growth of mobile action codes in 2011 signals that this technology has moved from an experimental phase to becoming an integral part of a brand's print marketing strategy," said Roger Matus, Executive Vice President of Nellymoser and study co-author. "QR codes bring a magazine to life with engaging content that is delivered when and where it's convenient for the reader. Unlike a static advertisement, print-to-mobile campaigns let brands pursue many marketing goals at once – from branding, product demonstrations and list building to m-commerce and social media sharing."
QR Codes Lead Action Code Market
In 2011, advertisers overwhelmingly preferred QR codes (72%) and Microsoft Tag (25%) to other types of action codes (3%). While advertisers preferred QR codes, editors and integrated marketers favored Microsoft Tags, which made up 93% of codes that appeared in editorial content.
Video, Data Capture, Social Media and E-Commerce Are Biggest Uses for Action Codes
More than half of all QR codes and Microsoft Tags led to a video (54%), which usually was a product demo, behind the scenes look or an entertaining clip. Data capture and list building for opt-in communications, usually with a sweepstakes, were also very popular with 30% of action codes leading to this type of engagement. Social media sharing, where action codes enable Facebook, Twitter and email sharing, represented 23% of mobile engagements. E-commerce was also popular with 19% of mobile engagements leading to an online-store for instant product purchases, brick-and-mortar store locators and/or coupons.
A copy of the QR in advertising study is available at no charge at http://www.nellymoser.com/qr-in-advertising.
About Nellymoser
Nellymoser, Inc. (http://www.nellymoser.com), a mobile marketing and technology company founded in 2000 and headquartered in Arlington, MA, creates instant, interactive consumer "engagements" on mobile phones. These range from contests and product videos to interactive multimedia engagements that can be shared on social media (e.g. Facebook and Twitter) and include e-commerce for instant product purchases. Nellymoser's customers include leading publishers, advertisers, retailers, and consumer packages goods companies. All companies and products listed herein are trademarks or registered trademarks of their respective holders.
###