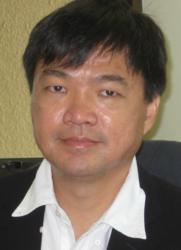 He was recognized "for pioneering research in distributed database management and peer-to-peer-based enterprise quality management."
Los Alamitos, California (PRWEB) January 30, 2012
Beng Chin Ooi, professor of computer science and dean of the School of Computing at the National University of Singapore, has been named winner of the IEEE Computer Society's 2012 Tsutomu Kanai Award.
Beng Chin, director of NUS's Interactive Digital Media Institute and IEEE Transactions on Knowledge and Data Engineering editor in chief, was recognized "for pioneering research in distributed database management and peer-to-peer-based enterprise quality management."
The award recognizes major contributions to state-of-the art distributed computing systems and their applications. It consists of a crystal model, certificate, and $10,000 honorarium. The seminal nature of the achievements, their practical impact, breadth and depth, and the quality of the nomination are all considered.
The Kanai Award was established in 1997 by a generous endowment from Hitachi Ltd., and named in honor of Tsutomu Kanai, who served as Hitachi's president for 30 years.
Beng Chin will receive his award at the Computer Society's 2011 awards ceremony in Seattle, Washington on Wednesday, 13 June.
Beng Chin's research interests include database system architectures, performance issues, indexing techniques and query processing, in the context of multimedia, spatio-temporal, distributed, parallel, P2P, and cloud-based database systems and applications.
He has served as program chair for numerous international conferences such as the IEEE International Conference on Data Engineering (ICDE), VLDB, WWW, and the Special Interest Group on Knowledge Discovery and Data Mining (SIGKDD).
Beng Chin was an editor of VLDB Journal and co-chair of the ACM Special Interest Group on Management of Data (SIGMOD) Jim Gray Best Thesis Award committee. Besides being editor in chief of IEEE Transactions on Knowledge and Data Engineering (TKDE), he serves as an editor of Distributed and Parallel Databases Journal, is an advisory board member of SIGMOD, and a trustee board member and executive of the VLDB Endowment.
He is the recipient of the ACM SIGMOD 2009 Contributions award, co-winner of the 2011 Singapore President's Science Award, and an ACM and IEEE Fellow. To find out more about the award or view previous recipients, visit http://www.computer.org/awards.
About the IEEE Computer Society
With nearly 85,000 members, the IEEE Computer Society is the world's leading organization of computing professionals. Founded in 1946, and the largest of the 38 societies of the Institute of Electrical and Electronics Engineers (IEEE), the Computer Society is dedicated to advancing the theory and application of computer and information-processing technology, and is known globally for its computing standards activities. For more information, go to http://www.computer.org.
###