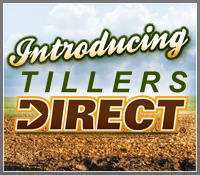 With our huge inventory, competitive prices and free shipping, we make it easy for consumers to quickly, easily and affordably find the perfect tiller for their needs
Bolingbrook, IL (PRWEB) January 30, 2012
Today Power Equipment Direct announced the launch of TillersDirect.com, a new online superstore dedicated exclusively to rototillers.
"We saw a huge market and realized no one was focused on selling tillers," said Jon Hoch, Founder and CEO of Power Equipment Direct. "With our huge inventory, competitive prices and free shipping, we make it easy for consumers to quickly, easily and affordably find the perfect tiller for their needs."
TillersDirect.com has compiled one of the largest collections of cultivators, front tine tillers, rear tine tillers and accompanying tiller accessories found anywhere.
Tillers Direct publishes product recommendations and customer reviews, as well as a comprehensive tiller buyer's guide to help shoppers select the perfect tiller.
Since PowerEquipmentDirect.com was founded in 2002, the company has expanded to 10 niche web stores and has established a reputation as one of the predominant players in the power equipment retail sector.
Power Equipment Direct operates 10 niche online superstores. In addition to TillersDirect.com, the Bolingbrook, IL-based company operates AirCompressorsDirect, ChainSawsDirect, ElectricGeneratorsDirect, LogSplittersDirect, MowersDirect, PressureWashersDirect, SnowBlowersDirect, SumpPumpsDirect and WaterPumpsDirect.
###