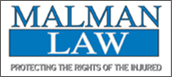 The most important thing we do is provide exemplary customer service, and we do that by keeping our clients happy and resolving their cases as quickly as we can.
Chicago, Illinois (PRWEB) January 29, 2012
Personal injury law firm Steven Malman & Associates PC is once again expanding its Chicago offices to better serve clients.
Founded in 1994, the firm made its first move into larger accommodations in 2000 and then took an 8,000 square-foot space at the downtown intersection of Randolph and Wells streets in 2010. As 2011 draws to a close, with a newly installed bronze plaque rechristening the building under the firm's name, Malman Law is announcing the addition of 1,500 square feet to its existing space for new offices and administrative-staff areas.
"This is all about serving our clients," noted founder and namesake Steve Malman. "The most important thing we do is provide exemplary customer service, and we do that by keeping our clients happy and resolving their cases as quickly as we can.
"That means we need the right staff to meet those needs, including gathering clients' medical records and bills and performing all sorts of critical research as efficiently as possible," he added. "And that means bringing in more staff as necessary, and the more staff we bring in, the more space we require."
In addition to providing more elbow room, Malman Law has used this latest expansion as a springboard to completely upgrade its overall office environment, including state-of-the-art conference rooms and a host of technological niceties such as new computers, phones and plasma-screen televisions.
"These additions don't just look good – they're critical to the services we provide," Steven Malman noted. "Being the best law firm is not only about having the best legal minds. In addition to the best personnel, you need the best tools and the best working environment."
"When clients come to these offices, they sense immediately the professionalism and dedication of the staff," he added. "That starts with the impressive environment."
The environment is not the only thing that's impressive about Malman Law. With numerous seven -digit settlements to its credit, the firm is a member of the Top Trial Lawyers of America's Million Dollar Advocates Forum and has been rated A-plus by the Better Business Bureau, which accredited the firm in September 2011 and has never received a complaint about Malman Law or any of its staff.
The firm has successfully resolved over 8,000 cases since 1994 and boasts a 95-percent out-of-court settlement rate. It set high-water marks in 2011 for new cases, resolved cases and total settlement valuation; it also welcomed a host of new attorneys, paralegals and administrative staffers in 2011 – and it's not done expanding yet. Malman Law's founder said he plans to add at least two new attorneys and two new paralegals in 2012, making the additional space at 205 West Randolph Street even more critical.
The new space will help accommodate the firm's Nursing Home Team, an elite squad of attorneys and administrative staff focused exclusively on cases of abuse and neglect inside Chicago-area elder-care facilities, and Malman Law's 24/7 Rapid Response Team, widely acknowledged as Chicago's first 24-hour hotline staffed by licensed attorneys.
Among the uniquely qualified staffers now calling Malman Law home are a former physician (and law school graduate) who provides expert medical reviews and a former defense attorney who specialized in nursing homes. These hyper-focused experts add depth and refinement to the firm's growing team of legal professionals.
"A third of our staff is dedicated to nursing home cases, a third is dedicated to workers' compensation claims and a third is dedicated to other sorts of personal injury cases, everything from automobile accidents to construction-site injuries to dog bites," Steven Malman said. "Thanks to this unparalleled level of expertise, we're very busy. And we're only getting busier, because we get so many word-of-mouth referrals.
"So much of our business comes from referrals from existing or older clients," the attorney added. "That's a reflection of not only our legal skills, but our excellent customer service. And as the practice continues to grow by leaps and bounds, these physical expansions become more important."
About Malman Law
A graduate of the University of Iowa and the School of Law at Loyola University-Chicago, attorney Steven Malman celebrated his 20th year of practice in November 2011. He launched the Law Offices of Steven J. Malman & Associates PC in 1994 with just himself, one secretary and one assistant, and has since grown the firm to include seven attorneys and over a dozen paralegals and support staff. Steven Malman has successfully resolved over 8,000 cases – primarily in the areas of workers' compensation and personal injury – and boasts a 95-percent out-of-court settlement rate, making it one the most successful firms serving Illinois' Cook, Lake, Dupage and Will counties.
###