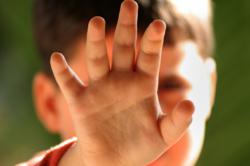 According to the foundation, Darkness to Light, research suggests that far fewer than 1/3 of child abuse incidents are identified or reported.
Jacksonville, Florida (PRWEB) January 30, 2012
"Criminal background checks aren't enough to keep child molesters away from children," explained Don Dymer of SingleSource during his Sunday morning interview on "Inside Jacksonville." The radio show is hosted by Jim Byard and aired on four stations, Lite, 96.1; Country Legends, 100.7; Sunny, 94.1 and Gator Country 99.9.
"What has been frustrating to me over sixteen years in the background screening industry and a full career before that in law enforcement at Scotland Yard, is that our criminal record system doesn't provide enough insight about those who would victimize children and youth," Dymer continued. "That frustration lead me on a journey over a year ago to find out if there was anything out there that could supplement finger-printing and background checks and fill that critical void."
Now Dymer is ready to share his findings with everyone at an all day education conference planned on February 3. He organized the Protect the Children Conference being held at the University of North Florida's University Center. He has brought together professionals from mental health fields, juvenile justice systems and organizations dedicated to helping prevent child abuse, and, provide support for victims together for one day to let the world know about a powerful adjunct to traditional background screening practices.
"I have discovered an amazing assessment tool, that, combined with thorough background screening, finger printing and reference checks can identify with an incredibly high degree of accuracy if a person lacks an understanding of what boundaries should exist between adults and children."
Byard asked Dymer, "How could there still be so much threat out there? We warn our kids so all the time about the danger of strangers?" To which Dymer explained that according to research by many organizations, including Abel Screening, 90% of the victims are abused by people they know, love or trust.
Child abusers groom not just their victims, but the victims' families as well. Parents have been lulled into a false sense of security and often tell themselves that they have done their part by warning their children to stay away from strangers. Dymer urges not just parents, but those actively involved as volunteers or workers in schools, youth organizations and day care centers to understand the warning signs. "Be aware of the coach or volunteer devoting too much time and attention to one particular student or athlete. Not just the star of the team, but look out for a little too much attention to one student over another. Invitations to watch sports events at their homes without parental supervision or often, without other classmates, overnight trips, one-on-one situations where the child or youth is isolated from parents and friends to spend alone time with an adult outside of the family unit should be noticed and not ignored." 81% of child sexual abuse incidents for all ages occur in one-perpetrator/one-child circumstances (Snyder, 2000).
The Protect the Children Conference is a must for parents, guidance counselors, daycare and preschools, churches, children's homes, foster agencies, advocacy agencies, hospitals and rehabilitation centers as well as those in the justice system.
Child sexual abuse persists in places where our children should be safe, explained Don Dymer. The Protect the Children Conference offers seven continuing education credits for The National Board of Certified Counselors, the American Psychological Association and five credits from the Society of Human Resource Managers. There is still time to sign up by going to http://www.singlesourceservices.com/protectthechildren.
###