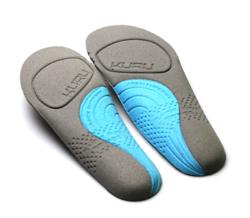 To really improve a woman's overall health and comfort, we knew we needed to help her body be more natural. With this new sockliner, our female customers tell us we've nailed it.
Salt Lake City, UT (PRWEB) January 31, 2012
KURU Footwear, a direct to consumer shoe brand, recently debuted an innovative insole that offers wearer's superior support for their feet. This sockliner insole was designed specifically with women in mind. It is the first to combine a varus wedge seamlessly integrated with the arch and then placed on top of the company's KuruSole orthotic technology. The company believes the combined support of these two technologies is unmatched by other shoe brands.
The sockliner of a shoe is the foam insole placed inside a shoe and is usually removable. Most shoe brands use flimsy foams that may feel good initially, but quickly lose support and flatten over time. In fact, most seasoned runners regularly replace the factory insole with costly aftermarket insoles for their running shoes. KURU wanted to offer their customers something that would last as long as the shoes themselves.
To begin, the company worked with a medical advisory team which consists of podiatrists, physical therapists and pedorthists to design an insole optimized for both men and women. Due to a wider pelvis, women have a greater 'Q' Angle which is thought to create added stress on the lower leg joints. This increased stress is suspected to make women more susceptible to injury.
Knowing that their innovative KuruSole orthotic technology was already helping thousands of women, the brand wanted to take it one step further with their new sockliner insole. The insole includes a varus wedge, which places a woman's foot in a more natural position. This varus wedge seamlessly transitions into the arch support of the insole. In addition, the company uses a space-age, high grade foam that absorbs moisture, provides superior cushion, and holds its shape and support for the life of the product.
A quick perusal of the reviews on the company's website suggests this new sockliner is resonating with women. Carol wrote, "As soon as I put these shoes on I could feel the difference and I felt like Cinderella--a perfect fit. Totally unbelievable with all the shoe brands available only one is making shoes for the real human foot."
Currently this new sockliner is available exclusively Chicane and Aalto Chukka styles. However, the company plans on rolling out this new insole across their complete product range. To view all of the company's comfort shoes range, visit: http://www.kurufootwear.com
# # #