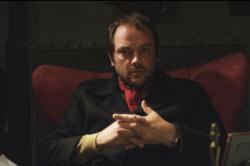 "It's always hard to bring Jules Verne's stories to life ... we tried to stay true to some of the key elements of the book in the spirit of what makes Verne one of the greatest storytellers of all time." ~Sheppard
Baton Rouge, Louisiana (PRWEB) January 31, 2012
K2 Pictures and Leverage Entertainment are thrilled to announce "Jules Verne's Mysterious Island," a re-imagining of one of the world's most beloved literary adventures, will debut as a Syfy Saturday Original Movie on Feb. 11, 2012 at 9 p.m. EST in the United States. Filmed on location in Louisiana, this cinematic adaptation of Jules Verne's 1874 novel "The Mysterious Island" ("L'Île mystérieuse"), adapted for the screen by Cameron Larson ("Xtinction: Predator X"), is the directorial debut of Syfy on-screen favorite Mark Sheppard ("Battlestar Galactica," "Supernatural," "Firefly," "Warehouse 13").
"We were faced with a tremendous challenge. It's always hard to bring Jules Verne's stories to life – you run the risk of upsetting an awful lot of diehard fans. But we tried to stay true to some of the key elements of the book in the spirit of what makes Jules Verne one of the greatest storytellers of all time," says director Sheppard, who also makes a cameo in the film as a young Captain Nemo.
In "Jules Verne's Mysterious Island," as famine and death ravage Richmond, Va., five northern Civil War POWs, including Emmy Award-winner Pruitt Taylor Vince (AMC's "The Walking Dead," "JFK," "Drive Angry," "Constantine") and Lochlyn Munro ("Dead Man on Campus," "White Chicks"), plan a daring escape by hijacking a hot air balloon. Drifting through the night, they wake to find themselves marooned on a desert island … but they're not alone.
Littered with wreckage, the island is home to a cast of survivors who have been lost in space and time, including sisters Abby Fogg (Susie Abromeit, "Battle Los Angeles") and Jules Fogg (Gina Holden, "Saw 3-D," "Alien vs. Predator"), two young women from modern times who become stranded while flying over the Bermuda Triangle.
Forced to defend themselves against vicious pirates, terrifying creatures and a volcano that's ready to blow, they must find a way to survive. Their only hope to escape the island lies with its longest resident, Captain Nemo (Mark Sheppard's real life father - W. Morgan Sheppard, "Star Trek," "Transformers," "Gods and Generals"). With his help, they craft another plan … but will they make it before the island claims them all forever?
"This remarkable adaptation of the classic Verne story is sure to delight adventurers of all ages, as well as fans of the original story," says George M. Kostuch, President and CEO, K2 Pictures + K2D, producer and sales agent of the film.
The Saturday 9 p.m. EST telecast is the cornerstone slot for "Syfy Saturday Original Movies," making the network's premiere a milestone accomplishment for K2 Pictures + K2D. Prior to this deal, the network had acquired two other K2 films ("Mutants," "Lockjaw: Rise of the Kulev Serpent") for U.S. television broadcast on Syfy. "Jules Verne's Mysterious Island" is the first "Syfy Saturday Original Movie" for the K2 brand.
Green Apple Entertainment will bring "Jules Verne's Mysterious Island" to VOD and DVD in May.
K2 Pictures + K2D is a Baton Rouge-based production and worldwide film sales company, focused on genre-based titles that are independently financed and produced within the state of Louisiana. George M. Kostuch, president and CEO, along with Matt Keith of Leverage Entertainment, have produced nearly 20 films under the K2 banner since 2005, including an ongoing slate of SyFy projects. Company Website: http://www.k2pictures.us
Mark Sheppard is repped by Stone Manners Salners, Gina Holden is repped by AKA Talent, Lochyln Munro is repped by Stone Manners Salners, Pruitt Taylor Vince is repped by Gersh, Susie Abromeit is repped by Sovereign Talent Group and W. Morgan Sheppard is repped by SMS Talent.
###