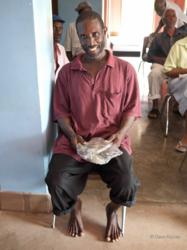 It just goes to show us how far this donation will go to improve their lives.
New York, NY (PRWEB) January 31, 2012
Hundreds of Grenadians of all ages were ecstatic to receive 4,000 lbs of indispensable supplies delivered and distributed by Urban Humanitarian Projects (UHP) through its Healthy Grenada program. The generous donation could not have been possible without the support and sponsorship of UHP in collaboration with Amerijet, St. George University (SGU), Nu Spice, and Osbee Industries.
With 120 occupants living in tight quarters and supplied with minimal amenities, Mt. Gay Hospital is the only mental facility available to the people of Grenada, an island in the West Indies with a population of 104,487 and growing. St. George University medical students have had first-hand experience helping the patients at the sole mental hospital, but felt that further action needed to be taken to ensure that the patients experience quality healthcare.
Similarly, Bel Air Children's Home can care for up to 20 babies and toddlers in the nursery and 20 adolescents; all of which come from a background of neglect, physical or sexual abuse, or abandonment. Supported by a staff of 20, SGU and the local government helps where they can, yet the remainder of these costs has to be met by contributions.
UHP's special fundraising team at SGU worked closely with Healthy Grenada member Natalie Rosenwasser and CEO of Osbee Industries David Raines who personally traveled to dispense basic necessities to these two organizations. Rosenwasser states "It just goes to show us how far this donation will go to improve their lives."
The delivered pallets contained approximately $9,000 worth of items which included: Deodorant, toothpaste and shampoo, cutlery, shoes, clothes and even activities like sports equipment and board games. Osbee Industries also supplied entertainment equipment for the patients. These items were purchased in New York, packaged onto shipping pallets and sent to Miami by Amerijet to Grenada through SGU's shipping containers. Amerijet and SGU generously offered free shipping on all donated items. Any remaining funds were used to purchase and donate additional items while the organizers were in Grenada.
Healthy Grenada is a health-based initiative spearheaded by SGU students under UHP, a student-run non-profit 501(c)3 charitable organization founded by St. George's University medical students (Grenada, West Indies) completing their medical training in New York City. UHP's mission - to improve the education, healthcare, and quality of life of the underprivileged – is supported by working with established charities throughout the United States and abroad to make a positive impact in the lives of disadvantaged children and adults. With support from the SGU administration, UHP was able to purchase and deliver three shipping pallets full of supplies to the hospital, each weighing approximately 1500 pounds.
###