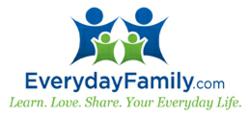 Los Angeles, California (PRWEB) October 10, 2012
EverydayFamily.com has joined the fight to cure childhood cancer and will donate up to $20,000 to The Leukemia & Lymphoma Society (LLS), in exchange for Facebook "likes." For each new Facebook "Like" it receives between now and December 31, 2012, EverydayFamily.com will donate $1 to LLS.
Giving has never been easier, and it also has its rewards. Once a participant has "Liked" EverydayFamily.com and shared the campaign with Facebook friends, participants can then register to win a $250 gift card by sharing their thoughts and feelings about the inspiring work of LLS with EverydayFamily.com.
In addition to the ongoing Facebook "Like" campaign, EverydayFamily.com recently sponsored the LLS Orange County light The Night Walk on Saturday, September 29, 2012, hosting the Kids Zone and donating $10,000.
"Leukemia takes more lives of children in the Unites States than any other cancer. EverydayFamily.com is a community of parents, so we understand and truly appreciate the amazing work and research LLS does in helping to cure childhood cancer," said Noah Anderson, owner and CEO of EverydayFamily.com. "If we get involved in our local chapters – working together to raise money and awareness – and donate our time and efforts, we can help families give their children the very best chance to thrive today, and for years to come."
This is the second consecutive year EverydayFamily.com has reached out to its Facebook members, in hopes of raising awareness for the LLS cause. Last year, even though EverydayFamily.com received 11,214 new "Likes" during its campaign, it donated an additional $9,000, on behalf of its members, for a total of $20,000 to the LLS.
Participants can join the cause and donate by clicking EverydayFamily.com's Facebook "Like" button, at http://www.facebook.com/EverydayFamily. The money raised through the campaign will fund a portfolio of over 11 pediatric cancer research grants, and 100 percent of the donations will directly benefit LLS research.
"LLS is extremely grateful to EverydayFamily.com and its employees for committing, once again, to this initiative," said Piper Medcalf, Executive Director. "It's incredible that all a person has to do is click their mouse to make a donation. These funds will go a long way to help beat childhood cancer."
About The Leukemia & Lymphoma Society
The Leukemia & Lymphoma Society ® (LLS) is the world's largest voluntary health agency dedicated to blood cancer. The LLS mission: Cure leukemia, lymphoma, Hodgkin's disease and myeloma, and improve the quality of life of patients and their families. LLS funds lifesaving blood cancer research around the world and provides free information and support services.
Founded in 1949 and headquartered in White Plains, NY, LLS has chapters throughout the United States and Canada. To learn more, visit http://www.lls.org or contact the Information Resource Center at (800) 955-4572, Monday through Friday, 9 a.m. to 6 p.m. ET. http://www.lls.org.
About EverydayFamily.com
EverydayFamily.com (EF) is a family driven website – in every sense – featuring a growing community of over three million members who share their everyday parenting experiences. EF is an online home and established resource for experts and parents who have advice and information to share, as well as those who are seeking guidance and support as they move through their family's journey, from preconception, to preschool, and beyond.
EF invites everyone to get comfortable and share stories, thoughts, advice, and opinions with other families. The editors at EF, as well as the entire EF community, are dedicated to providing daily content for families seeking advice, information, and support… and to giving back to the communities supporting us.
Contact: MediaRelations(at)EverydayFamily(dot)com