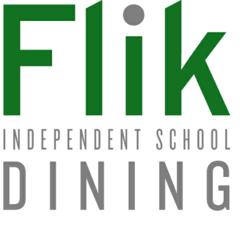 The Certification process provides a defined structure for school communities to reduce their carbon footprint and energy fees, and we are proud to help them do it.
Rye Brook, NY (PRWEB) October 15, 2012
The kitchen and dining room are one of the biggest users of energy on school campuses. Becoming more environmentally sustainable is a primary goal of many independent school communities. To assist the school communities it serves in reducing their impact on the environment, Flik Independent School Dining (Flik) has partnered with the Green Restaurant Association (GRA) to work towards Certification for their foodservice operations. To date, Flik's on-site school foodservice teams have assisted 11 schools in the New York City, Boston and Charlotte metropolitan areas to complete certification and 14 schools ranging from New Hampshire to North Carolina are currently in progress. Three more schools will start the certification process during the 2012-13 year.
"Collaborating with schools to achieve Green Restaurant Certification makes sense on so many levels," says Ray Mulligan, President of Flik Independent School Dining. "We believe it is our responsibility to be a contributing member of the school communities we serve, and ten years ago we began implementing environmental initiatives as part of this belief. The certification process provides a defined structure for school communities to reduce their carbon footprint and energy fees, and we are proud to help them do it."
Founded in 1990 with the goal of helping the restaurant industry to reduce its environmental impact by providing tools to encourage sustainability, the Green Restaurant Association (GRA) is a national non-profit organization that offers a rigorous Certification program requiring foodservice operators to meet minimum criteria in seven environmental categories, including water efficiency, waste reduction and recycling, sustainable furnishings and building materials, sustainable food, energy, disposables, and chemical and pollution reduction. Meeting these criteria on the school campus requires collaboration between the administration and its foodservice provider.
"The GRA has been Certifying restaurants for two decades," says Michael Oshman, Founder and CEO of the Green Restaurant Association. "Partnering with Flik has allowed us to make significant progress in working with school communities.  The more schools that know about the GRA's Certification program, the more that will take similar steps to reduce the environmental impact of their foodservice operations."
"In January 2012, Ethical Culture Fieldston School received official certification for its three cafeterias as three-star green restaurants by the Green Restaurant Association, making ECFS the only PreK-12 school in the country to receive this rating," says Damian Fernandez, Ethical Culture Fieldston Head of School. "This achievement is a testament to the school's commitment to and leadership in living green. The award reflects both the conscious decision of the ECFS community to increase sustainability throughout both campuses, and the collaboration between ECFS and Flik Independent School Dining to effect the greening of our foodservice operation."
Below is a partial list of the independent schools Flik is partnering with to achieve and maintain Certification by the GRA:
Certification Complete:

Charlotte Latin School - Charlotte, NC
Dwight-Englewood School - Englewood, NJ
Ethical Culture School - New York, NY
Fieldston School - New York, NY
Friends Seminary - New York, NY
Hackley School - Tarrytown, NY
Horace Mann School - Riverdale, NY
Noble and Greenough School - Dedham, MA
Rye Country Day School - Rye, NY
The Dalton School - New York, NY
The Winsor School - Boston, MA
Certification in Progress:

Columbia Grammar and Preparatory School - New York, NY
German School New York - White Plains, NY
Gill St. Bernard's - Gladstone, NJ
Grace Church School - New York, NY
Kimball Union Academy - Meriden, NH
Oldfields School - Glencoe, MD
Princeton Day School - Princeton, NJ
Providence Day School - Charlotte, NC
Rippowam Cisqua School - Bedford/Mt. Kisco, NY
The Hewitt School - New York, NY
The Meadowbrook School - Weston, MA
# # #
NOTES FOR EDITORS
Journalists wishing to set up interviews with the individuals quoted in the release and/or the Flik Independent School Dining foodservice associates serving the above-mentioned schools should contact Rachel Begun at rachel(at)rachelbegun(dot)com.
ABOUT FLIK INDEPENDENT SCHOOL DINING
Flik Independent School Dining, a division of the Charlotte, NC-based Compass Group, provides dining services for 137 private schools nationwide. Its team of food and nutrition experts is dedicated entirely to creating fun, healthful and innovative dining solutions for private and independent school communities. Fresh, healthful food preparation utilizing batch cooking techniques and locally and sustainably-sourced ingredients has always been the cornerstone of the company's operating philosophy.
ABOUT GREEN RESTAURANT ASSOCIATION
Established in 1990, the Green Restaurant Association provides convenient and cost-effective tools to help the restaurant industry and other foodservice operations to reduce their impact on the environment. The GRA founded the green restaurant movement and is one of the pioneering founders of the green business movement as well.