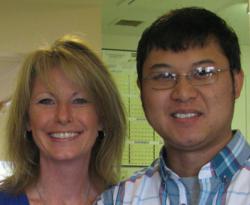 Shinglehouse, PA (PRWEB) October 12, 2012
With five separate manufacturing plants across northwestern Pennsylvania and southwestern New York, Wayne Concrete certainly isn't worried about their prominence in the local concrete production market. But Lisa Stephen, owner and President of this Shinglehouse construction materials company, wants to ensure the next generation of concrete manufacturers by supporting the Concrete Industry Management program (CIM). The program is designed to prepare graduates for careers in the concrete production industry by training them in the basics of this building material's manufacturing process.
In addition to basic technical familiarity, the CIM program supported by Wayne Concrete also aims to demonstrate the practical applications of concrete and other building materials, as well as the essential need for these components in the construction industry. By showing students the value of their work as an incentive, the program intends to recruit the best and brightest minds available for the growing concrete business. The program also offers a unique opportunity to veterans of the concrete world to impart their knowledge upon a new generation of future professionals, and share the personal experiences of their own careers.
Awareness of the CIM program in the academic world is constantly growing, and as this growth continues, Wayne Concrete hopes to see a boom in available talent in every field of their business, including sales, ground operations, and overall project management. The business believes that their support of this program will inspire similar companies in the area to offer the same helping hand, both financially and through the provision of skilled trainers with years of business experience. Since the program is open to companies of all sizes, even the smallest operations can participate, gaining valuable knowledge and trained staff.
Perhaps the greatest example of this program's success is in the case of CIM intern Beely Bounedara, who was recently hired by Wayne Concrete and quickly proved himself to be a valuable asset to the company by offering stellar customer relations skills and a positive outlook. The employees at Wayne Concrete are hoping to hire Mr. Bounedara full-time once he graduates. Success stories like this one only serve to reinforce the great benefits of programs like CIM, and the benefits companies can achieve through partnership with them. For complete information about all Wayne Concrete products and services, visit the company's website at http://www.waynecomp.com.
About the company:
Wayne Companies takes pride in their sales team, drivers, & crews. The customer is first & foremost in their business, and they are pleased to assist their customers with an experienced staff to handle all their needs. Wayne Paving and Concrete also has operations to Coudersport, PA, Bradford, PA, Warren, PA, and Springville, NY. All plants are DOT approved. Each location also stocks construction supplies for retail sale. For more information, please visit their website at http://www.wayne-companies.com.