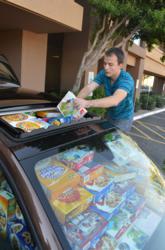 Giving back to the community is a natural extension of the kind of employees AAM hires.
Tempe, AZ (PRWEB) October 11, 2012
750 pounds or 12,076 ounces ….that's how much cereal Tempe-based AAM employees and their partners collected for charity. "Cruisin for Cereal" was a fun, team-building event for a community cause, something at which the Tempe-based AAM is very good.
AAM, a community management company, is very active in raising money for selected non-profits in communities where it conducts its business, and loves to involve its employees and business partners in the fun. AAM is one of Arizona's most-respected community management companies, with 21 years of community management company experience and over 359 associations under management in Arizona, New Mexico and Florida.
"We have a company theme of 'Creating a better America – One neighborhood at a time' and we live that motto. It's not just a vision for our company, we have embraced a true commitment to make a difference," said Amanda Shaw, President of AAM.
One recent day, AAM VP of Business Development, Susan Williams, told Shaw that she was going to stop by the store and pick up some cereal to give to the kids at the Sunshine Acres Children's Home, a Mesa home for children who have been separated from their parents. Shaw replied, "I wonder how many boxes of cereal can fit into your new Fiat?" A cause was born which became "Cruisin for Cereal."
Employees and trade partners rallied behind the Crusin' for Cereal and collected a total 1225 boxes, plus more than $1,200 in cash and gift cards to be donated to Sunshine Acres Children's Home, located in Mesa. Of those 1225 boxes, 436 actually fit into the Fiat, packed from floor to sunroof and every cubic inch in between.
A long-term residential home for children in need, Sunshine Acres takes in children whose family may be homeless, or one of their parent is incarcerated or suffers from a drug or alcohol problem. "The children who come to live with us thrive with love and stability. In many ways we become their family and we continue our friendship long after they leave the ranch. We are very grateful for the support of AAM and the donation of this tremendous amount of cereal to be enjoyed by our children," said Carol Whitworth, daughter of the original founders, and President and CEO of Sunshine Acres. Whitworth was in attendance at the Fiat stuffing. Since 1954, Sunshine Acres has taken care of over 1600 children. Once admitted, a child may stay as long as needed, even into early adulthood. (sunshineacres.org).
AAM routinely rallies its employees to participate in philanthropic outreach. The company has enjoyed days of service at St. Mary's Food Bank where they pack food boxes for the hungry, they have raised over $12,000 for the Arizona Humane Society through fun and engaging employee events, and now donated a car-load of cereal to children who have traveled a tough road but found refuge at Sunshine Acres.
"Giving back to the community is a natural extension of the kind of employees AAM hires. They want to make difference and appreciate the commitment the company has made that enables them to do so," said Williams. "It's not only great team building, our employees reap so much by reaching out to those in need and giving them a hand up," said Williams.
AAM works with many of the largest homebuilding and community development companies in the United States such as Del Webb/Pulte, Shea Homes and Meritage Homes. Founded in 1990, AAM employs 350 people and manages more than 359 homeowners associations in the United States. AAM is dedicated to delivering total peace of mind to the boards of directors and homeowners in the communities it manages. http://www.associatedasset.com.