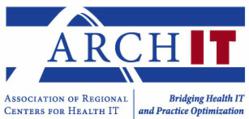 Washington, DC (PRWEB) October 16, 2012
On October 4, certain members of the House of Representatives Appropriations, and Energy and Commerce committees made public a letter to HHS Secretary Kathleen Sebelius in which they asked the Secretary to suspend the EHR incentive program. ARCH-IT, a national association of organizations committed to improving health care through information technology, believes that this would be an unfortunate development at a time when the healthcare sector is poised to make some significant gains.
"The House letter to Sec. Sebelius suggests that the ultimate desire is to further spur on the deployment of HIT around the country, and we wholly agree with this sentiment," said Jonathan M. Fuchs, FACHE of the Arkansas Foundation for Medical Care, and the President of ARCH-IT. "However, retracting or suspending the program would run completely counter to this goal by undermining the federal commitment to HIT expansion. But even more concerning is that it would financially damage the small practices who have already invested in an EHR and are currently working to achieve Meaningful Use."
"It is hard to fathom the fact that people in our government would oppose the important improvements in healthcare that information technology delivers, and the dramatic changes electronic medical records will have on the quality of care delivered to our patients and the health of the nation," said Robert Schwartz, M.D., chair of the South Florida Regional Extension Center.
For the last 30 months, states, healthcare providers, health information exchanges, Regional Extension Centers (REC), EHR vendors, and others have been working hard to help bring the national healthcare infrastructure into the 21st century. The EHR Incentive Program has been a catalyst for much of this, providing a significant carrot in the form of incentive payments for achieving progressively more challenging levels of use of EHRs.
"This progress has not been easy. Adopting EHRs and using them effectively is a major operational challenge for providers and hospitals of all stripes. Unlike a new phone app that can be purchased cheaply and used separately from other phone functions, EHRs are expensive and fundamentally alter how a practice delivers healthcare services," said Fuchs. "Unfortunately, all too often practices install EHRs without thinking through how it will be used, or how to implement those features their EHR vendor promised to deliver."
According to data released by the Office of the National Coordinator for Health Information Technology, the 62 RECs around the country have enrolled more than 135,000 primary care providers in small practices—almost half of the 294,300 "eligible physicians" who have enrolled for the EHR incentive payments. Of these, more than 93,000 have already implemented EHRs—but 70,000 are still working on achieving the Stage 1 Meaningful Use requirements when they will get paid. In total, nearly 140,500 providers have been paid, according to CMS.
"These funds represent a significant stimulus and provide desperately needed cash flow for financially strapped medical practices. Any suspension of those funds will especially penalize small business owners who will be forced to lay off staff and curtail purchasing," said Dr. Bernd Wollschlaeger, a physician in North Miami Beach, FL. "As a Steering Committee member of the South Florida Regional Extension Center (SFREC) I learned to appreciate the value of close collaboration of like-minded physicians using information technology solutions to maximize quality of care. The SFREC and many other RECs throughout the United States provide guidance and technical assistance on best practices to support and accelerate efforts to become meaningful users of certified EHR technology."
ARCH-IT notes that Health Information Technology has a long history of bi-partisan support. When the Office of the National Coordinator for Health Information Technology was created in 2004, then-President George W. Bush set the goal of having the majority of the country using EHRs. ARCH-IT believes that America is well on its way to achieving that goal; the EHR Incentive Program is a major reason why; and that pulling back on the federal commitment to this program would set back the use of HIT for another generation.
"This is a delay we can ill afford," said Lisa K. Rawlins of the South Florida Regional Extension Center, and ARCH-IT's Vice President. "With a growing shortage of primary care providers, we need to ensure that those we do have are operating at peak efficiency. Furthermore, the many initiatives sponsored by the Department of Health and Human Services—including payment reform, PCMH (primary care medical home) and the recently enacted CMS innovation projects—require EHRs that are installed, and effectively used."
The 62 Regional Extension Centers around the country currently help practices of all sizes effectively use their EHRs. A recent GAO report indicated that providers enrolled with their REC are more than twice as likely to have achieved Meaningful Use than their non-REC enrolled colleagues.
The Association of Regional Centers for Health Information Technology (ARCH-IT) is the umbrella advocacy organization for the REC program. Formed in early 2012 by a group of forward thinking program directors, ARCH-IT works to support REC programs through education about the goals and successes of the REC program, works to establish partnerships that benefit local RECs and their members, and provides technical assistance to ensure that RECs continue to provide services of the highest quality.
###