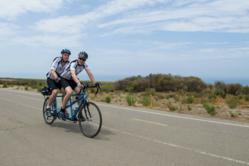 San Diego, California (PRWEB) October 17, 2012
Peter Dawson, district administrator for the Blind Field Services Division of the California Department of Rehabilitation, has been nominated for the first annual "No Limits" Award, an honor spotlighting individuals who have succeeded in the face of physical disabilities. The award is part of the "No Limits" Mentoring Mission, a charitable outreach program dedicated to helping disabled people of all ages achieve their dreams.
Unlike most teenagers waffling between potential professions, Dawson knew exactly what he wanted to do from an early age. "My feet were firmly planted on the ground, but my head was definitely in the clouds," said Dawson, a former high school athlete whose father was a renowned surgeon and mother a nurse. "My dream was to become a Naval pilot, and I had already been accepted into the ROTC program at the University of Washington."
However, those plans would inalterably change on a warm Sunday afternoon in 1977, just three weeks before graduating from Mercer Island High School in Washington state. "I was having a blast with other classmates at our informal annual event, sort of a 'rites of passage' weekend filled with partying and off-road riding," he said. "As I was rounding a corner on my trials motorcycle, a guy on a motocross bike lost control and barreled into me at high speed. The gas tank, speedometer and who knows what else just smashed me straight in the face."
Unconscious and blinded, Dawson was rushed to the hospital where his face was literally wired together just to hold it in place. "My life had changed in the blink of an eye. One minute I was having the time of my life with my school buddies, and the next, wondering if I was going to die," he said. "I was only certain of one thing – my dream of becoming a pilot was out the window."
After he was stabilized by a team of surgeons, it was determined that one eye was damaged beyond repair and would have to be removed. A week later, Dawson was flown to the Bascom Palmer Institute at the University of Miami, where he met the world's preeminent retina specialist at the time in hopes of saving his remaining eye. Unfortunately, nothing could be done. The graduating senior with such a bright future had permanently lost his vision.
"I had no idea what I was going to do… my life had been pulled out from under me," Dawson said. "Since I had already been accepted at the University of Washington, and my brothers were going there, I decided to go… but my heart certainly wasn't in it. I was passed around between my brothers and friends to help me get to my classes. I did start listening to books on tape and even learned how to type. One day, a representative from the Washington State Commission for the Blind encouraged me to get some training to better deal with my disability. I wasn't ready to hear anything about being disabled at that point, and basically showed him the door."
By the following year, and after the first of over 30 reconstructive surgeries, Dawson felt more helpless than ever. "I felt totally humiliated having to rely on others to get around campus. And then one day, my brother took me to a large auditorium for a lecture and forgot to come and get me. I desperately had to use the bathroom, and I was fumbling around… trying to find the bathroom and running into walls and furniture. I was devastated."
After that, Dawson hired an independent contractor to help him get around campus using a white cane, but he was still unwilling to enter a state-run training program for the blind. "The full weight of my situation crashed down on me after the auditorium incident," he recalled. "I had been this popular jock in high school, and now I looked like hell, since I did not have artificial eyes at the time. It was only my faith, family and friends that kept me inching forward."
After a year of dealing with his blindness on his terms, Dawson finally relented and entered the state program for the blind. "I felt like I had been placed into a mental institution or something." And, suicidal thoughts crept into his mind. "The only successful blind people I had ever heard about were singers or musicians," he reasoned. "And, I had seen blind people on streets of Korea begging for coins, and people with disabilities selling pencils right here in the U.S. Somehow, though, I got through this very dark point of my life and completed the program."
According to Dawson, completing that program turned his life, and his attitude, around. "As a high school athlete, I wasn't the best student… but all of that changed in college. I fell in love with learning, and I now had skills to operate more independently. I moved into an apartment with my one of my brothers, began dating and my grades shot up – something brand new for me. I loved history, but had no clue how a degree in history was going to help me make a living."
Dawson decided to take a couple of law classes, which he excelled at, and after getting his undergraduate degree, was accepted to the University of Washington School of Law. He went on to intern for the Washington State Office of the Attorney General where he was offered a job once he completed law school. However, he wanted to prove to himself that he could get a job with a prestigious private law firm despite being blind, and eventually, he landed a job with the second biggest firm in the state – though it was no easy task.
"They were very reluctant to bring me in," Dawson said. "I went through round after round of interviews. I'm sure they were wondering just how I'd perform in the courtroom, or if there were potential liability issues by hiring me. The process just dragged on, and finally, I told them, 'Look, bring me in, and if you decide it was a mistake, I'll just leave... no worries.'"
It wasn't a mistake, and Dawson proved to himself and the partners that he could do his job at a very high level. However, he found the work less than satisfying. "Truth is, I hated it! There was limited adaptive computer technology for the blind in those days, so I worked an insane number of hours."
In 1990, he started his own law practice. Again, while he excelled in the law, most of the cases were the accident, whiplash-related variety. "And, I felt I was wasting a lot of time doing something I really didn't love," he said.
What Dawson loved was helping and mentoring visually impaired individuals in any way he could. "I volunteered for various Washington State Commission for the Blind committees acting as an advocate for the blind. And finally, it hit me… what I really loved doing was social work. So, I went back to school and earned a master's degree in Vocational Rehabilitation Counseling from San Diego State University, and by my late-thirties, was ready to make a significant career course correction."
Committed to giving back, Dawson became a vocational rehabilitation counselor with the California Department of Rehabilitation in San Diego. He served the blind and those with other disabilities in his role as a counselor and then a supervisor. His passion for helping others, along with his organizational, political and legal acumen, helped him move quickly up the ranks in San Diego. In his current position as district administrator for the Blind Field Services Division in San Diego, he oversees over 60 counselors, and nine supervisors in 14 different districts that serve around 7,000 blind or visually impaired people throughout the state.
"My job is what it's always been, only on a much larger scale," Dawson said. "To help the disabled have a chance to lead fully independent lives – and have the same opportunities to reach their dreams as any other American."
According to Dawson, there is still widespread discrimination and stereotyping of the disabled in today's society. "Sadly, the biggest public misconception concerning disabled people is that they are not as capable or they are going to be sick and miss more days of work. Both assumptions are just plain wrong. The fact is disabled employees actually miss less work, are more loyal and work harder than their so-called 'normal' counterparts. Part of my job is to educate employers to the fact that disabled people, when properly trained and given a chance, make awesome hires."
Dawson's wife, Dawn, also works in the social arena as a Diversity Civil Rights Officer for U.S. Customs and Border Protection, and they have an 8-year-old daughter named Olivia. And, he hasn't let being blind get in the way of his love for the outdoors. "I still go skiing and love taking rugged 30 to 40-mile tandem bike rides. Most importantly, I'm making my life count for something by doing what I love – helping others."
Dawson joins a list of inspiring Americans – from television sports anchors to authors – who have been nominated for the "No Limits" Award created by Patrick Lennon, who is legally blind and overcame a host of medical challenges to become CEO of ROI Media Direct, a national radio and television direct response advertising agency. The "No Limits" Mentoring Mission is dedicated to helping disabled people to achieve career goals through mentoring, training, technology, employer partnerships and special government programs that incentivize companies to hire this highly motivated, but largely forgotten segment of the American population.
At the end of the year, a check will be handed to the "No Limits" Award winner to be given to the Braille Institute, Leukemia & Lymphoma Society, or designated charity of his or her choice. In addition, the winner's charity or cause will also receive $5,000 in free national media exposure via radio and/or television public service announcements. A nationwide press release program will also be launched to thousands of media outlets featuring the winner's story and charity.
If you would like to share your story, know of someone you'd like to nominate for the "No Limits" Award, or are interested in helping to mentor or employ the disabled, go to NoLimitsAward.org or visit Facebook.com/NoLimitsAward. If you are in the media, and interested in interviewing any of the "No Limits" nominees, please contact Patrick Lennon at patrick(at)roimediadirect(dot)com.