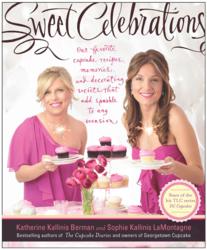 Moist, tasty, and expertly iced, the popular cupcake creations of sisters Katherine Kallinis Berman and Sophie Kallinis LaMontagne of Gerogetown Cupcake are baked works of art." --Better Homes & Gardens
San Francisco, CA (PRWEB) October 11, 2012
Birthdays, cocktail parties, weddings, bridal showers, picnics—all occasions should be topped off by a cupcake! Sisters and stars of the hit TV series DC Cupcakes Katherine Kallinis and Sophie Kallinis LaMontagne, serve up over 50 recipes for any special day in this delectable follow-up to their beloved memoir and cookbook THE CUPCAKE DIARIES.
A beautifully designed book, with their trademark aesthetic, SWEET CELEBRATIONS includes step-by-step decorating instructions with photos as well as demonstrations for small-scale tabletop sculptures, both of which are manageable for the home baker. The book expands the scope of its predecessor THE CUPCAKE DIARIES by providing inventive new cupcake recipes, including frozen cupcake pops for summer picnics and blue and pink "gender reveal" cupcakes for baby showers.
Weaving in their personal memories that coincide with each special event, Kallinis and Montagne provide anecdotes that highlight both baking and entertaining tips for readers planning their next cupcake-filled special occasion.