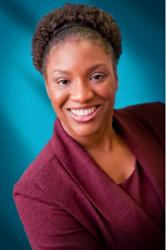 When I review the growth of women owned business, I see a powerhouse in job creation and a source of economic growth. Texas ranks second in women-owned firms. - April Day
Houston, Texas (PRWEB) October 12, 2012
The Women's Business Enterprise Alliance (WBEA) Board of Directors has selected April Day as WBEA's new President, effective October 5, 2012.
Day is the former director of the WBEA's Houston Galveston Women's Business Center, a federally funded U. S. Small Business Administration resource center. Since the center's inception, she has worked with over 500 women business owners providing business solutions and technical support for sustainability and growth strategies.
Ms. Day brings over 13 years of financial oversight, program development, business development, and non-profit experience. Prior to Day's leadership, she served as director for the U.S. Department of Education TRIO programs. Merging business practices, Day strives to increase the capacity of small businesses.
"When I review the growth of women owned business, I see a powerhouse in job creation and a source of economic growth. Texas ranks second in women-owned firms, yet so few take advantage of the many resources and networks available for sustainability and capacity building. WBEA is poised to provide the connective links through networking, mentoring, and capacity building programs", remarked April Day.
"I look forward to serving the small business community with a vision rooted in advocacy and sustainability. With our cooperative agreement with the U.S. Small Business Administration coupled with strong supplier diversity relationships, WBEA aims to level the playing field for women-owned businesses."
"April Day brings an intimate knowledge of the current WBEA organization and has had great success leading the WBC organization for us. This along with her strong background in running non-profits and grant management positions April well to help WBEA achieve our vision of the future," stated Kelly Mortensen, Chevron Upstream & Gas Supply Chain Advisor and WBEA Board Chairman."
###
About the WBEA: The Women's Business Enterprise Alliance, a nationally recognized purchasing council, is a pacesetter in helping women business enterprises grow and develop. WBEA is strongly committed to increasing opportunities for women-owned businesses and providing qualified suppliers to corporate and government purchasers. Headquartered in Houston, the Women's Business Enterprise Alliance serves a 94-county Texas region with programs, activities, and educational opportunities designed to support and promote women-owned enterprises. The WBEA is one of 14 regional partner organizations across the U.S. under the WBENC national umbrella.
To learn more about WBEA and the nationally recognized WBENC certification for women-owned businesses, please visit http://www.wbea-texas.org.