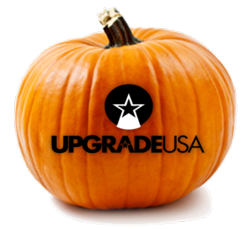 Other companies eat money in people's wallets like zombies eat brains.
Austin, TX (PRWEB) October 16, 2012
UpgradeUSA, a leading online company focused on helping customers build credit through laptop payment plans, recently outlined the reasons it appeals to the important zombie hunter demograpic.
Zombie hunters may express a clear preference for UpgradeUSA's laptop payment plans for the following reasons:

Speed and Responsiveness. They are often too busy to cut through the tangled web of red tape when looking for a laptop payment plan that makes the most sense for their busy lives. They are looking for a clear online program that meets their needs, treats them with respect, and acts fast on their behalf. As one customer recently said, "We must move quickly when we need a laptop on a payment plan; you never know when a zombie apocalypse might be on the horizon."
Quality and Reliability. Respondents needed a quality laptop, either new or factory-refurbished, to take care of their important business quickly. UpgradeUSA was the clear vendor of choice. "UpgradeUSA doesn't play games, or offer computers they know are as reliable as dead people walking. What they offer on their site is what you get."
Credit Building. Like most Americans, when not hunting zombies, they are often reflective on how to improve their credit situation. Because UpgradeUSA reports every payment to all three US credit bureaus, the company is focused on helping customers build better credit. "This is a program that can help restore us to full strength," said another customer. "And their monthly prices can't be beat. We just eat this up."
"There's nothing scarier than doing business with a company that takes advantage of customers looking for laptop payment plans," said Jon Weisblatt, founder & CEO of UpgradeUSA. "Other companies eat money in people's wallets like zombies eat brains. UpgradeUSA offers a far better experience, like a calm dawn after a nightmarish evening."
UpgradeUSA's laptop payment plans are available for zombie-hunters and the general public, and start as low as $55/month. Unlike other companies, prices at UpgradeUSA do not change based on a customer's credit score. This makes for an affordable quality alternative to traditional rent-to-own, financing, and layaway.
Availability by State
UpgradeUSA's online-only laptop payment plan services are now available for qualified customers in the following states: Arizona, California, Colorado, Delaware, Florida, Illinois, Kansas, Kentucky, Louisiana, Massachusetts, Michigan, Mississippi, Missouri, Montana, Nevada, New Mexico, New York, North Dakota, Oklahoma, Oregon, South Dakota, Texas, Utah, Vermont, Virginia, Washington, and Wyoming.
How People Can Qualify
To participate in the program, interested people should visit UpgradeUSA.com where they can click on the "Apply Now" button and complete a short application on a secure site. They should expect an email response within one business day. UpgradeUSA ships after the first customer payment.
After approved customers make their first payment and schedule subsequent monthly payments, UpgradeUSA quickly ships the computer that the customer ordered. Customers can make and schedule all payments securely online via debit or credit cards.
About UpgradeUSA
UpgradeUSA helps solve a leading question for a growing number of U.S. consumers: How do I build credit? The company addresses this through the online leasing of new and refurbished mobile computers, with each monthly customer payment reported to all three major U.S. credit bureaus. Customers can choose to end their lease and return their computer at any time after a few months, or can purchase it early at any time during the lease process, with no penalty. Our program is available in a growing number of states across the U.S. UpgradeUSA is privately held and is headquartered in Austin, Texas.