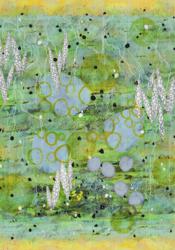 Through the works of these talented and generous artists, we aim to increase awareness of endangered animals, cultures, and freedoms.
Miami, Florida (PRWEB) October 17, 2012
Top artists will show their works at a special exhibition entitled ENDANGERED to raise funds for The Center for Great Apes, a non-profit sanctuary that rescues and protects chimpanzees and orangutans. The exhibition will take place from 11 am until 11pm daily, December 5-9, 2012 at the Miami Club Rum Distillery in the Wynwood art district in Miami, Florida. Nightly special events start at 7pm. To learn more about the Center for Great Apes visit http://www.CenterForGreatApes.org or http://www.facebook.com/CenterForGreatApes.
"Art has the power to impact people beyond words," stated Patti Ragan, Founder and Director of the Center for Great Apes, which earned the prestigious Charity Navigator Four-Star rating in 2011.
Art by the celebrated artists reflects nature, the environment, animals and life. Several of the artists will be incorporating the Center for Great Apes into their work for the exhibit. Fine art photographer Laurent Harari has visited the Center for Great Apes to create a special image for the ENDANGERED exhibition. Artist Jeffrey Pitt, a primatologist by training, will also create a special piece focusing on great apes for the exhibition. And during the exhibition a video of the sanctuary and the apes will be projected on a piece by artist David Kidd. Paintings by Garry Kravit are of specific residents at the Center for Great Apes. Pieces from more than a dozen celebrated artists will be on display including artists represented by Octavia Art Gallery.
Works from the following artists represented by the Octavia Art Gallery will be on exhibit:

David Kidd – David Kidd's layered, textured abstract paintings feature structural and botanical elements. davidkiddpaintings.com
Joe Zammit-Lucia - One of the world's leading animal portrait artists, Joe Zammit-Lucia is a conceptual artist working with a photographic medium to explore issues relating to the human animal relationship. jzlimages.com
Sheila McInerney - McInerney utilizes a variety of natural and found materials in her work, which explores the rich inner world of her dreams and memories. The result is a play between outer and inner expression. sheilamcinerney.com
Nall - Over a successful, 40-year career, Nall has seamlessly positioned himself for both regional and international appeal, with a sprawling body of work that reveals the beauty of nature, the ephemeral, and strikes those who confront and admire his work, just as they would the spectacle of nature itself. nallart.com
Jeffery Pitt - Jeffrey Pitt's drawings and paintings of iconography and symbols interpret current events and situations. His work can be found in the New Orleans Museum of Art, the Wichita Center for the Arts, and in many notable private collections. jeffreypitt.net
Betsy Stewart - Using biomorphic images, Betsy Stewart's artwork examines the microscopic, mutually dependent life systems found in pond water. Her artwork can be found hanging in major cities nationally and internationally, including New York, San Francisco, Santa Fe, London, and Beirut as well as Corcoran Gallery of Art in Washington, D.C., and the American Embassy in Barbados. betsystewartpaintings.com
Works from the following artists Anna Bogusz, Isabelle du Toit, Norman Gitzen, Garry Kravit, Ronnie Muscat, and Jonathan Norris will also be on display at the ENDANGERED exhibit. During the exhibit special events will occur nightly starting at 7pm. On December 7 fashions inspired by endangered species will be modeled. These designs commissioned by the Gabby Wild Foundation (gabbywild.com/animals.php) include works by students and designers such as Jay McCarroll and Seth Aaron Henderson, winners of Lifetime's hit reality show "Project Runway". A donation of $20 per guest at the entrance provides guests with one complimentary cocktail and an event poster. For more information and a complete list of events for the exhibit, visit http://www.CenterForGreatApes.org or http://www.facebook.com/CenterForGreatApes.
About the Center for Great Apes
Center for Great Apes, founded in 1993, is a private, non-profit sanctuary that provides a permanent home for orangutans and chimpanzees that have been retired and rescued from the entertainment industry, from research, or from the exotic pet trade including some who have disabilities or who have suffered abuse and neglect. The Center currently provides care with dignity in a safe, healthy, and enriching environment for 45 great apes in need of lifetime care. Our forested sanctuary home is located near Wauchula, on over 100 acres a few miles from the beautiful Peace River in south central Florida. To learn more about the Center, please visit http://www.CenterforGreatApes.org or http://www.facebook.com/CenterForGreatApes.
###