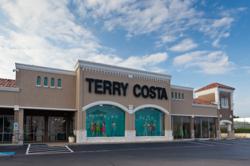 Dallas, TX (PRWEB) October 15, 2012
Terry Costa is pleased to announce their partnership with the Dallas Margarita Society as a platinum sponsor of the 2012 Dallas Margarita Ball.
In addition to a 10% discount, Terry Costa will donate 10% of the proceeds from all evening gowns and special occasion dresses bought for the Margarita Ball to Dallas Childrens' Charities. This is the fourth year that Terry Costa has sponsored the Margarita Ball as part of its community outreach for Dallas, where Terry Costa has been in business for 26 years.
"In association with the Margarita Ball, I'm so proud of the impact we're able to have on the community and the lives of these kids", said Terry Costa CEO Tina Loyd. "It's such a pleasure to work with the Margarita Society for this incredible cause. If Margarita Ball is to 'Party With a Purpose', then we want to offer an opportunity to 'Shop With a Purpose'".
This year's Margarita Ball will be held on Nov 10th, 2012. The Margarita Ball is the largest black tie invite-only gala in the world. To date over $4,000,000 in toys and donations have been collected to help at-risk children that might not otherwise receive anything for Christmas.11,000+ people were in attendance at the 35th ball held on November 19, 2011.
Located in Dallas at the southwest corner of Preston and 635, Terry Costa has been dressing the women of Dallas-Fort Worth for 26 years. Open 7 days a week, Terry Costa carries everything from Quincenera dresses to pageant gowns, bridal to prom- and of course the perfect Margarita Ball Dress, including One of a Kind styles.