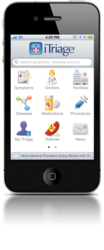 Use of the iTriage application will greatly benefit the general public because it will enable them to find timely emergent and urgent care with just the tap of a finger
Beaver Dam, WI (PRWEB) October 15, 2012
With U.S. smartphone ownership now topping 53 percent according to a recent Pew Internet study, more consumers are using their mobile devices to access information than ever before. Beaver Dam Community Hospital's emergency room recently increased its presence in the growing mobile market by partnering with Infinity HealthCare and iTriage®, a trusted source for personal healthcare information, to provide smartphone-toting consumers with critical health and medical information at their fingertips.
Infinity HealthCare, the Midwest region's premier provider of Emergency Department Management Services, has brought iTriage to Beaver Dam Community Hospital.
The free consumer iTriage health app gives residents and visitors in our region immediate access to symptoms, diseases and treatment options as well directions to the closest emergency rooms. In the future, iTriage may also provide average ER wait times for BDCH.
To access iTriage, consumers can download the free application from the app stores for their iPhone® or Android™ mobile devices or access it through any Internet-enabled device at http://www.iTriageHealth.com.
By launching the iTriage application, BDCH is able to provide mobile users with the resources to help them make the most informed decision as to the most appropriate healthcare facility or treatment for their medical condition. Users can also use the interactive mobile technology of iTriage to:

Learn about possible causes and treatment options
Find specific facility information like services provided, hours of operation and turn-by-turn directions using GPS capabilities
"Use of the iTriage application will greatly benefit the general public because it will enable them to find timely emergent and urgent care with just the tap of a finger," said Dr. Richard Tovar, Emergency Department Medical Director of BDCH. "Beaver Dam Community Hospital is the only Level 3 Trauma Center in the area and has one of the largest local-based primary care and specialty groups of physicians in the area. Through this partnership, we are very happy to be able to offer this enhanced piece of technology to those in our region."
"When healthcare providers put useful medical information in the palm of their patient's hands with iTriage, consumers are empowered to make informed decisions about where they will seek affordable care for their medical condition," said Peter Hudson, M.D., and co-founder of iTriage. "We live in a new world that requires patients to be more informed and responsible for their health and iTriage allows them to play a larger role in their healthcare."
About Beaver Dam Community Hospitals, Inc.
Beaver Dam Community Hospitals, Inc. is an independent, non-profit healthcare organization whose mission is to deliver excellence across a continuum of services to patients in the region of Dodge, Columbia and Fond du Lac Counties, Wisconsin. BDCH offers a comprehensive continuum of services to people of all ages, including primary and specialty care, obstetric and inpatient acute care, outpatient surgery and oncology services, rehabilitation, home care, hospice, long-term care, and day care for children. For more information, visit http://www.bdch.com.
About iTriage, LLC
iTriage LLC, headquartered in Denver, Colorado, is a global health care technology company founded in 2008 by two emergency medicine physicians. The company's market-leading platform and mobile/Web applications offer a proprietary Symptom-to-Provider™ pathway that empowers consumers to make better health care decisions. iTriage helps people answer the two most common medical questions: "What could be wrong?" and "Where should I go for treatment?" Millions of consumers around the globe have downloaded the free iTriage mobile app on their iPhone and Android devices, and thousands of health care providers use iTriage to reach and communicate critical facility and service information to patients. For more information, please visit http://about.iTriageHealth.com.