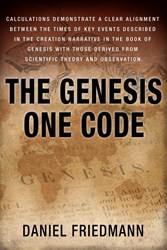 Daniel Friedmann lays out the connection between God's creation and modern-day science in his book The Genesis One Code.
Vancouver BC (PRWEB) October 15, 2012
"It's not the end of the world that fascinates me, it's the beginning," says engineering physicist Daniel Friedmann. "My formula shows that the religious and scientific wisdoms are two sides of the same coin and can enlighten each other."
From November 9 through December 15, Daniel Friedmann will be discussing the relationship between scientific theory and biblical teachings from his book, The Genesis One Code. The book approaches the origins debate from a fresh perspective informed by both scientific and spiritual research. The book demonstrates an alignment between the dates of key events as described in Genesis 1 and 2 with those derived from scientific theory and observation. Readers will be provided with hours of endless discussion about the origins debate, what happened, and when it happened.
Daniel Friedmann is CEO of an aerospace company in Canada, specializing in robotics used on the international space station. He has a Master's in Engineering Physics and 30 years' experience in the space industry. He has published more than 20 peer-reviewed scientific papers on space industry topics. He is also a longtime student of cosmology and religion. Friedmann says, " My formula produced more than 20 Bible/science matches for events described in Genesis."
There is also a free companion iPhone app, Bible Clock (http://danielfriedmannbooks.com/the-genesis-one-code/), users can quickly convert from the biblical timeline of the six days of creation to the scientific timeline of billions of years and vice versa.
On the tour, Friedmann will be discussing what Genesis has to say about past major extinctions of life on earth and how this compares to the scientific record. Other topics include what Adam and Eve were really like, the big bang theory and how it relates to the creation account. "And best of all," says Daniel, "by the end of the book and with the free Bible Clock app the next time there is a fossil discovery from 500 million years ago, you will be able to determine the biblical time from the scientific time. What is fascinating is that you will be able to explore other events that were going on around the same time."
Go to http://virtualbooktour-theyppublishing.blogspot.ca/p/genesis-and-science-on-origins-of.html website to follow Daniel Friedmann's full tour schedule, or visit his website http://danielfriedmannbooks.com/the-genesis-one-code/.
There will be free giveaways of the book and other prizes.
See you there!