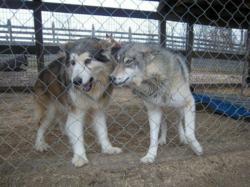 "This picture is a perfect example of the differences between a normal dog and a dog with some high wolf content"- Mark Stredney
Mayfield Heights, OH (PRWEB) October 16, 2012
The state of Ohio is continuing its ban on owners and their exotic pets. Section 935.01 of Ohio's SB310 states ""Dangerous wild animal" means any of the following, including hybrids unless otherwise specified: Gray wolves, excluding hybrids." The translation means that it is legal to have a dog that has wolf content according to this bill.
According to lifelong Ohioan Mark Stredney and the Mypackofwolvessanctuary.org website "A wolfdog or a "wolf hybrid" is the result from the mating of a wolf and a dog. Most breeders nowadays use wolfdog instead of hybrid due to the domestic dog being recategorized as a subspecies to the gray wolf which is the most common wolf in North America. Any wolfdog that has some sort of wolf heritage within the last 5 generations is considered a wolfdog. The most likely cross bred dogs are the German shepherd, Siberian husky, or the Alaskan malamute. Controversy has surrounded the wolfdog due to its supposed nature or it being seen as protected wildlife.
In the publicity surrounding this new bill what actually is allowed has gotten lost. If a pet owner has a wolf dog according to this new Ohio bill they will not have to register, insure, or pay a fee for their animal because the hybrid is "excluded". It is still strongly suggested to check with specific Ohio counties or cities as to their legalities but for the Ohio state SB310 they are allowed.
Any questions as to each owners specific wolfdog heritage can be answered by doing some research online or at a local library as to the actual differences between dog and wolf. A very good website for phenotyping the differences is "Texx-wolf-tails.webs.com". Wolf content is widely and universally misrepresented and exaggerated. Mark Stredney also can answer questions by emailing the website at MarkStredney(at)Mypackofwolvessanctuary(dot)org.
My Pack of Wolves Sanctuary is a non profit tax exempt rescue that will house and take care of wolves and wolfdogs. The website has a donation page for anyone that would like to support and help preserve the wolf and its descendants.
Please follow My Pack of Wolves on Twitter as #Mypackofwolves and our fan page on Facebook.