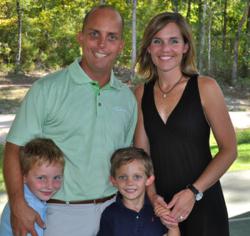 We are looking forward to working with Garret and his outstanding staff over the coming years to grow the scale and quality of our ministries
Livingston, TX (PRWEB) October 16, 2012
The Board of Directors of Cho-Yeh Camp and Conference Center has announced the appointment of Garret Larsen to the position of President and CEO. Garret has been serving as acting chief executive since May and was Cho-Yeh's Summer Camp Director for five years prior to that. He has contributed substantially to the growth and development of Cho-Yeh over that period.
Garret came to Cho-Yeh after receiving his Master of Divinity from Princeton Theological Seminary. Previously Garret received a B.S. in Biology from Messiah College in Pennsylvania and taught sciences and coached soccer at Westhill High School in Connecticut. Garret is married to Kelly, and they have two young sons, Gavin and Austin. Camp has always been an integral part of both Garret and Kelly's life as they met at the age of 12 at Camp-of-the-Woods in the Adirondack Mountains and then later served on staff together. Garret currently serves on the board of Deerfoot Lodge, an all-boys Christian wilderness camp in Upstate New York.
The board says that it is excited for the future of Cho-Yeh's thriving summer camp and retreat ministries and its continuing mission to build relationships and impact lives in a Christ-centered environment.
"We are looking forward to working with Garret and his outstanding staff over the coming years to grow the scale and quality of our ministries," said Keith Little, Chair of the Board of Directors. "We anticipate continuing to upgrade and expand our hospitality and recreational facilities and to offer new programs and services to the nearly three thousand summer campers and many thousands of retreaters that we host every year."
About Cho-Yeh
Established in 1947 by the Presbytery of New Covenant, Cho-Yeh Camp and Conference Center is a premier Christian camp and retreat center in Livingston, TX. The name Cho-Yeh comes from the local Alabama-Coushatta Indian language and means "a place where tall pines grow". Camp Cho-Yeh has a full-time staff of over 20 people and a summer staff of over 150 counselors who are all dedicated to being safe, having fun and helping people grow spiritually. Though it is affiliated with the Presbyterian Church (USA), its campers and retreat guests come from all walks of life, denominations and other organizations to enjoy its Texas retreats, facilities and programs. Camp Cho-Yeh is accredited by the American Camping Association and is a member of the Christian Camp and Conference Association.