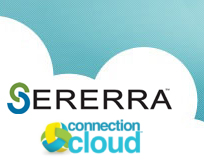 ...a truly innovative way of enabling advanced reporting for cloud-based applications
Irvine, CA (PRWEB) October 16, 2012
Sererra Consulting Group, a world-leader in Green IT cloud business process and technology management and Elastic Intelligence, the developer of the Connection Cloud, a revolutionary PaaS (Platform-as-a-Service) platform to gain real-time access to SaaS data in the cloud, today announced they will team up to enable Sererra's customers access to Intacct and other SaaS application data, in real-time.
By partnering with the Connection Cloud, Sererra clients can access SaaS data from where it resides, bypassing the need to do any additional engineering or development work. Sererra is a key partner for Intacct, Netsuite, SugarCRM, Salesforce and SAP Business OnDemand. Using the Connection Cloud, customers of these SaaS applications can access data as if that data were in a local SQL database.
The partnership will also enable greater utility of data stored in Salesforce, Netsuite, Zuora, Zendesk and Eloqua, as Sererra can develop new business intelligence and integration solutions using the SaaS access technology provided by the Connection Cloud.
Elastic Intelligence and Sererra are joining forces at the Intacct Advantage 2012 conference. Sererra is a Platinum Sponsor and, as part of its booth presentation, will be highlighting the new partnership offering Connection Cloud technology to its clients. The Intacct Advantage 2012 Customer and Partner Conference is the cloud financial management conference of the year. The show is being held at the Omni Orlando Resort at ChampionsGate in Orlando, Florida October 17-19, 2012.
"Intacct Advantage is the perfect showcase for our new partnership with Sererra," said Murray Dunn, Vice President, Business Development, Elastic Intelligence. "Being able to access SaaS data, from where it resides in the cloud, is an enormous benefit to enterprises. We are delighted to be able to help enterprises access Intacct data, with the support of Sererra's innovative solutions."
This is a truly innovative way of enabling advanced reporting for cloud-based applications," said Nik Puni, Sererra President.
About Sererra
Sererra is a leading Intacct Solution provider, focused on delivering turnkey business solutions for midmarket firms worldwide. Sererra's core areas of expertise emphasize business process engineering, systems implementation, integration and custom software development including cloud-based business processes for a wide range of industries. Sererra provides businesses with a complete, unified and integrated solution that helps organizations grow more profitable. With more than 600 successful implementations and five offices worldwide, Sererra is a one-stop-shop for all your SaaS needs. Our commitment to excellence and Client Satisfaction Guarantee assures the success of every project we undertake – every time.
About Connection Cloud
The Connection Cloud, developed and marketed by Elastic Intelligence, is the first and only real-time SQL-based Platform-as-a-Service for connecting to SaaS data for reporting, business intelligence (BI) and application development. Using Connection Cloud, business users and application developers can access their data from where it resides, eliminating the need for a data warehousing, or additional IT support. The company was incorporated in 2008 and is based in Menlo Park, California. For more information, visit http://www.connectioncloud.com.