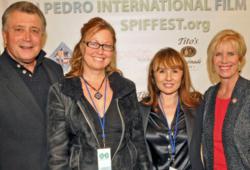 The community support and turnout for SPIFFest 2012 exceeded expectations.
Los Angeles, CA (PRWEB) October 16, 2012
Organizers of the 2012 First Annual San Pedro International Film Festival (SPIFFest) today announced this year's winners for best feature film, documentary, short film, animation and screenplay. Thirty-four films were screened at the inaugural festival, which ran from October 12 – 14 at the Warner Grand Theatre, Terrace Cinemas and California Cabrillo Marine Aquarium.
"The community support and turnout for SPIFFest exceeded our expectations," said executive director Ziggy Mrkich. "We were extremely proud of the extent and diversity of the program, and are looking forward to an even bigger and better SPIFFest 2013."
Festival highlights included screenings of the award-wining "The Loneliest Planet," "Silver Linings Playbook" and an IndieCon workshop with film editor Sean Albertson (Warrior, Rocky Balboa); writer, director and producer Larry Karaszewski (People Vs. Larry Flint, Man on the Moon and 1408) and writer/director Matthew Wilder (Your Name Here).
Winners of the 2012 San Pedro International Film Festival:
Best Feature: "Silver Linings Playbook," directed by David O'Russell (USA)
Best Documentary: "Return to Byzantium," directed by Adelina Suvagau (Canada)
Best EcoDoc: "Quest For Energy," directed by Vinit Parmar (USA)
Best Screenplay: "Dogs of the Pacific," written by Julia Surface (USA)
Best 3D Documentary Short: "Cosmic Journey," directed by Jonathan Kitzen (USA)
Best Animated Short: "Reality Clock," directed by Amanda Tasse (USA)
Best Short: "Get a Move On," directed by Peter Oreskovic (Croatia)
Best Student Short: "Stejne Jako Ja," directed by Michael Freise (Czech Republic)
Honorable Mention (Feature): "Night Boats," directed by Igor Mirkovic (Croatia)
Honorable Mention (Screenplay): "Legacy Golden," written by Tom Smolko (USA)
Honorable Mention (Shorts): "Forgetting Regret," directed by Chris Kato (USA)
Honorable Mention (Student Shorts): "Water on Mars," directed by Chase Smith (USA)
Honorable Mention (Music): "When Skies Are Blue," directed by Tony Nawrocki (USA)
"San Pedro has served as a backdrop for many major film and TV projects, and the community has always been a great partner when it comes to welcoming production to its neighborhoods," said Amy Lemisch, executive director of the California Film Commission. "It's only fitting that San Pedro now has a film festival to call its own."
Festival sponsors include San Pedro Business Improvement District (PBID), Coastal San Pedro Neighborhood Council, The Friends of the Croatian Cultural Center; City of Los Angeles Department of Cultural Affairs, San Pedro Convention & Visitors Bureau, Crowne Plaza Hotels & Resorts, Monster Energy Drink, Kind Healthy Snacks, San Pedro Today, Script Pipeline, Tito's Handmade Vodka, Experience San Pedro, and Debbie Marr (Lazy Dog Studio).
About SPIFFest
San Pedro International Film Festival's mission is to celebrate the city's cultural diversity and film production history. SPIFFest provides audiences with extraordinary films from local and international filmmakers that educate, enlighten and entertain. We also support community programs that help young filmmakers develop the skills needed to achieve their aspirations. For more information email SPIFFest at info(at)SPIFFest(dot)org.
Media Contact:
Dawn Rose
Ann | Rose & Associates
877-787-6363
dawn(at)ann (dash) rose (dot) com