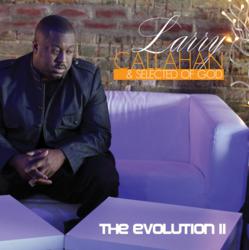 The Evolution II represents the challenges and growing pains of evolving and coming into our own as an artist. It epitomizes the process of change
Detroit, MI (PRWEB) October 18, 2012
Sing2Praise Recordings announce the November 13th release of Larry Callahan & Selected of God's newest album The Evolution II. Distributed by Kobalt Music Group, the CD will be available online and in retailers nationwide. In celebration of the launch, the charismatic choir will headline a free 11th Anniversary Service & CD Release Concert on Saturday, November 17th at 6:00pm at Bishop Edgar L. Vann's Second Ebenezer Church at 14601 Dequindre Road (Near I-75 & East McNichols) in Detroit. Tickets can be secured at Second Ebenezer, Triumph Church and God's World or by calling 313-663-8800.
After a feature performance at Verizon's 2012 How Sweet the Sound national competition, the anointed collective was invited to open for gospel heavyweights Kirk Franklin, Donnie McClurkin, Marvin Sapp, and Israel Houghton on the King's Men Tour at Detroit's Fox Theatre. The choir's mission of spreading love has brought a positive light to the city of Detroit; they are aptly named Ambassadors of Chrysler's Imported From Detroit project (http://www.ifdproject.com). Selected of God's divine purpose will soon be fulfilled and touch the lives of millions around the world with The Evolution II. According SOG Founder, Larry Callahan "The Evolution II represents the challenges and growing pains of evolving and coming into our own as an artist. It epitomizes the process of change".
Produced by Grammy-winning, super producer Asaph Ward, The Evolution II is a poetically written; contemporary, urban and inspirational compilation. Top singles will include "It Could Have Been Me" with Chiffon McNeal and "Be Still & Know" showcasing Chrystal Rucker, a rising gospel phenomenon. Another stand out is the powerful remake of the wildly popular Clark Sisters' "You Brought the Sunshine". Full of great accents, the explosive musical arrangement of "Sunshine" offers a sultry accompaniment to an amazing background. It boasts lead vocals by the legendary composer herself, Elbernita "Twinkie" Clark-Terrell.
No stranger to the success of a well-done remake; Larry Callahan & Selected of God didn't take the process lightly. Callahan who also serves as the Music Director explained, "It was definitely an honor to remake "Sunshine", but there was a lot of weight…not only did we want to honor the original writer, who blessed us with her presence on our project, but we wanted to maintain the integrity of the Clark Sisters' work—it was a great responsibility".
Other promising tracks include "Dwell in Me", an upbeat, fun composition by Stephen Anderson-Day, that showcases Selected of God's signature church swag. "Deliver Me" is a mid-tempo tune written by Asaph Ward and national singer/songwriter Shawn McLemore with featured leads Stephen Anderson-Day and Nikki Ross from Houston. TX.
Eric Dawkins, of the widely respected Dawkins and Dawkins, joins SOG on "Forsaking All Others". The heartfelt ballad by Adrian B. King proclaims the artists' stance to not let anyone get in the way of honoring HIM. Anderson-Day's "He'll Do" promises to be a foot stomping Sunday morning experience in your car.
As impressive as the material on the project, so is the caliber and regional variety of the musicianship it features. The Evolution II is graced with some of the most seasoned musicians including drummers: Chris Johnson (Los Angeles), Joshua Mayfield of the famous Mayfield Brothers and from Detroit gospel legend lineage; J Drew-Sheard a.k.a. JDS. Ethan Former (Los Angeles), Allen "Snoop" Evans (Detroit) and Aaron Mayfield (Kansas) lend the bass, with Michael Bereal (Los Angeles), and Kevin Powell (Connecticut) on keys and Timothy Mole (North Carolina) on guitar.
Most noted for their spirit rousing redention of "Lose Yourself" that appeared in Chrysler's 2011 "Born of Fire: Imported from Detroit" Superbowl commercial. Larry Callahan & Selected of God's "Lose Yourself" video has garnered over 500,000 views. This exposure led to widespread visibility and countless opportunities in non-traditional sectors, thus spreading the word of God from the pews to people.
To arrange an interview or CD review, contact Publicist, Trea Davenport, Trea Day Management & Publicity, Inc at 678-327-8281. To learn more about Larry Callahan & Selected of God visit http://www.selectedofgod.com, http://www.twitter.com/SelectedofGod on Twitter and Facebook at http://www.facebook.com/SelectedofGod.