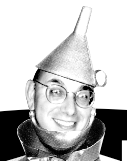 www.Tinman.com is a $1,000,000 name that is also easy to remember.
Houston, TX (PRWEB) October 23, 2012
Robert Shniderson, his friend and creative consultant, gave him the name years ago. Neither imagined that the Glenn's website would now be found at tinman.com and what you will find there is a beautiful selection of tin ceiling designs, molded fillers, plain fillers, friezes, a medallion and cornices all fabricated from tin plated steel. Available are styles that range from Art Deco and Turn of the Century to Americana and Victorian. The site will take you through the different patterns that are carried in those styles. The tin panels can change a boring room into an elegant room by using this wonderful product. Just as room sizes vary so do the size of patterns that the company offers. The sheets come in 3", 6", 12" and 24" repeat patterns to accommodate any size area or any room. A page is dedicated to 6-inch designs, one for 12-inch designs and another for their 24-inch designs.
Kitchens and dining rooms are the most common, but bedrooms, playrooms, game rooms, halls and even bathrooms can be victims of tin ceilings. The Tinman's weapon of choice is the tin ceiling. He doesn't fight crime just ugly interiors, and that is just residentially. Commercially tin ceilings have been used in restaurants such as TGIFridays, in sandwich places like Potbellys, ice cream parlors, hardware stores, bars and even in motion pictures like "Coyote Ugly", where it was above the heads of all those bar dancing waitresses.
The Tinman say, "Its great having a domain name that is easy to remember and represents a company and who I am". With the new web address also come a few new finishes for an already attractive product. The hand painted finishes have names like Plantation Charm, Copper Patina, Gothic Gold, Medieval Wine as well as many others. A bright copper finish is also available.
Besides ceilings many people are using the tin sheets for a back splash. The site offers instructions for both ceilings and a back splash, but the Tinman and his consultants at Chelsea are happy to help with any questions when you call and the Tinman himself does diagrams when room dimensions are sent. So his drawings are specific to your areas. The tinman name brings a smile to everyone's face and is not to be mistaken for any other tinman, since Glenn has a heart.
This most appropriate web name tinman.com is more than perfect for a website on tin ceilings where the owner is known as the Tinman. With an easy website to look through one can see the different designs, different patterns, different finishes. One can learn the installations of ceilings and back splashes. One can see finished jobs of tin sheets on walls and on the ceiling. How can one ever forget http://www.tinman.com for their tin ceiling needs? Even if the tin ceilings don't give your area a look worth a million dollars at least the Tinman believes his website name is worth that much.