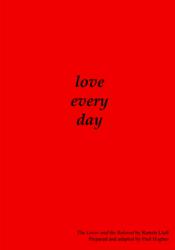 Who's going to tell your kids about love?
Orange County, CA (PRWEB) October 17, 2012
Remember "Show and Tell" in school? It's how kids get used to talking and hearing — and thinking — about important things.
OK, maybe the hamster we had at age seven isn't that crucial in that "big picture" grand-scheme-of-things way that adults live to — or at least it's where adults claim to live. But it was important to us, at the time, and it's important to them — our children — now. And since it's important to them, it's important to parents.
But still parents want to show them "what's what" in the world — and ideas for that are much in abundance. The ads are everywhere —
"Who's going to tell your kids about drugs?"
— with the ominous implication that if parents don't … someone else will.
What about love? As important as not taking drugs is, that's not all parents want for their kids, right? If they don't take drugs … and don't do much of anything else, we're screwed. So —
"Who's going to tell your kids about love?"
If not parents… who? If the neighborhood dealer can tell our sons about drugs, can the neighborhood pimp tell our daughters about sex? Heck, maybe even the high school senior and star quarterback can tell her.
No.
Parents must tell their kids.
And for parents to tell them, parents need to know themselves. Parents need to think about it before they talk about it — just like in show and tell. And to help parents think about it, Anderson-Noble Publishing is suggesting parents read about it?
A new book from Paul Hughes, love every day, can help. It's all about love, and as the title says, it can be had… every day.
The book is based on centuries old wisdom — five centuries to be exact — and the hard work of faith. The Spanish writer Ramón Llull, some 500 years ago, set down his vision of the journey of love. Now for the 21st century, the American writer Paul Hughes has reworked Llull's words to make it available again, today. And by setting it in the first person, the book also helps people connect more directly to the goal: love.
The basic idea of the original book — one person's journey through the hardships of love for God and others — is the same. Single thoughts are short — suitable for a quick read at any time of day — but packing a powerful punch — and you might dwell on it for days.
The 365 entries make it a great daily devotional through one year. And for a limited time, it's free for Amazon's Kindle at http://www.amazon.com/Love-Every-Day-ebook/dp/B009IBQURY/