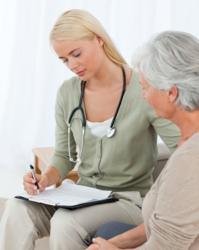 HEI's focus is on the patient and making them feel comfortable in their own environment.
Burlingame, CA (PRWEB) October 18, 2012
Health Exams Inc. (HEI) is announcing their new mobile phlebotomy concierge services for individuals who don't have the time to wait at busy crowed labs. HEI provides a simple solution to a process which most people dread. "It's almost like waiting in line at the DMV," states Robert Dahut, the CEO of Business Development.
HEI provides a mobilized blood drawing service where they come to your home or business to draw your blood. HEI has certified licensed phlebotomist in the field at any given time performing mobile services. They also provide other mobile services including resting EKGs and various diagnostic tests. Their service is very unique and customized to each patient they visit. HEI's focus is on the patient and making them feel comfortable in their own environment. It makes an often times distressing procedure easier to tolerate. Once the sample is collected the phlebotomist takes it either directly to your physician's office or ships it to the lab as per the stated protocol.
HEI's clients are ecstatic with the new concierge services. They love the convenience factor. One of HEI's client stated, "My mother is 92 years old and it is very difficult to take her to the lab for her weekly blood draws. Sometimes I have to take a half day off from work to bring her to the lab. With HEI, I no longer have to take time off work. They always send friendly and professional phlebotomist to draw my mother's blood and she looks forward to her weekly visits." Another one of their client states, "My time is too valuable to wait in line at a laboratory draw station. At times I have had to wait over an hour to be seen! HEI's concierge services work around my schedule not theirs. It usually takes less than 10 minutes to complete the process. I can schedule the phlebotomist to come to my home or office. It makes me feel like a rock star!"
HEI also works closely with medical groups and concierge physicians. Dr. Karron Power is a hormone replacement and health optimization specialist in San Francisco and Los Angeles and uses HEI services for her patients. "My patients are high profile, they include busy executives, celebrities and sport figures. They just don't have the time to wait at a lab for their blood to be drawn. HEI becomes an extension of my office since they provide the convenience and professionalism my patients expect from my practice," states Dr. Power.
Today with the changes in the health care system, individuals are taking control of ordering their own laboratory testing or working with specialized Wellness or Genetic laboratories. Labs will sell tests directly to the consumer for more informed preventive testing. Mr. Dahut states, "HEI is not a new company, we have been providing mobile services for the last 23 years. Our footprint has been on providing these type of services to the Insurance and Bio Tech Industries and for Clinical Trials and Research Studies. Our core foundation is based on providing the highest level of care and professionalism to our clients. HEI provides these services throughout the United States. The timing is perfect for our mobile diagnostic services with the changes in the health care system and with consumers taking more control of their own health. We provide the best of class services to our clients, offering a simplified solution at an affordable cost."
About HEI:
Health Exams Inc. (HEI) is a premier provider of Mobile Home Screening and Specimen Collections for the Medical Industry. Our team specializes in providing in home visits. HEI is driven on providing the highest level of care for your patients. For more information, visit HEI on the web at http://www.healthexamsinc.com.