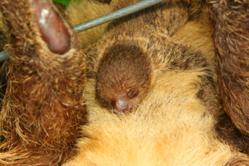 "We are overjoyed by the birth of the baby sloth and we look forward to seeing what names the public comes up with" - Steven Schindler, National Aquarium VP/CMO
Baltimore, MD (PRWEB) October 18, 2012
In honor of International Sloth Day on October 20, National Aquarium will launch a naming contest for the Linne's two-toed sloth born in Baltimore in late August. The newest addition to the Upland Tropical Rain Forest and the first born to Ivy, one of the four sloths in the exhibit, is the third sloth born at National Aquarium, Baltimore.
The public is invited to visit http://www.aqua.org/slothcontest between now and November 1 to submit name suggestions. A panel of National Aquarium staff will review and consider all entries. Then, from November 2 to 15, the public can vote on one of four names selected by the panel. The winning name will be announced on the morning of November 16.
International Sloth Day aims to bring awareness to illegal trafficking and the mistreatment of sloths in Central and South America. The AIUNA foundation, the starters of International Sloth Day rehabilitate sloths that have been injured by power lines, hit by cars or sold illegally and release them back into the wild.
"Aside from the incredible conservation message that International Sloth Day provides, sloths are increasingly finding a place in American pop culture and hearts with celebrities such as Kristen Bell expressing their fondness for the furry animals and websites like BuzzFeed, Huffington Post and Jezebel dedicating space on their websites to the adorable creatures," said National Aquarium Vice President/Chief Marketing Officer Steven Schindler. "We are overjoyed by the birth of the baby sloth and we look forward to seeing what names the public comes up with."
Sloths have been an ongoing part of the animal collection at National Aquarium. The two oldest sloths currently living in the rain forest, Syd and Ivy, were acquired in May 2007 from a private captive breeder in South Florida. The other two sloths, Howie and Xeno, were born at National Aquarium in 2008 and 2010, respectively.
Linne's two-toed sloths are commonly found in South America's rain forests, where they spend their entire lives in the trees. They are nocturnal by nature, fairly active at night while spending most of the day sleeping. Adult sloths are typically the size of a small dog, approximately 24-30 inches in length and about 12–20 pounds in weight.
The Linne's two-toed sloth is currently not threatened however other species of sloth, such as the maned three-toed sloth and pygmy three-toed sloth are endangered. The sloths at the National Aquarium, Baltimore help to inform people of the plight of all sloths from threats such as habitat loss and fragmentation of forests as well as to inspire conservation, protection and welfare of these and other animals. Forest fragmentation forces sloths to come to the ground to travel to additional food trees. On the ground, they become easy prey for dogs and humans. Additionally, many sloths are either killed or injured when trying to cross roadways, others are electrocuted by overhead electrical lines.
"Our staff continues to monitor the mother and baby from a distance," said Ken Howell, Curator of Rain Forest Exhibits at National Aquarium. "While we have not been able to determine the baby's gender with complete certainty, we believe the baby to be female."
Ivy and her new infant are free roaming in the Upland Tropical Rain Forest exhibit. Photos and video of the baby and mother sloth are available on the Aquarium's WATERblog here: http://ow.ly/ey0uG.