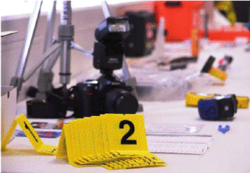 "Without good crime scene investigation, we run the risk of convicting innocent
people, or letting guilty people go free." Robert Rush, defense attorney and instructor
at the CSI Academy.
Gainesville, FL (PRWEB) October 24, 2012
The popularity of the hit series CSI is no secret, but how does someone find education to become certified in Crime Scene Investigation? The opportunity to become certified in Crime Scene Investigation is here, because a new state licensed educational facility is opening in Gainesville, Florida. The CSI Academy of Florida just received licensing from the Department of Education to begin a diploma program in Crime Scene Investigation. The Academy is located in a 28,000 square foot building, together with seven acres dedicated to training exercises and crime scene reenactments. The building is on US 441, approximately six miles north from the Florida Highway Patrol Station.
Currently there is no formalized educational program like what is offered at the CSI Academy of Florida. The hands-on instruction is taught by experienced crime scene investigators. Students learn theory in lecture, and then spend at least half of their time practicing evidence-gathering techniques, including collecting fingerprints, impressions, DNA, hair and fiber evidence. Students also learn about ballistics and gunshot residue, blood spatter and other transfer evidence.
According to a market study conducted by the University of Florida Business College, 83% of police departments rely upon state agencies like the Florida Department of Law Enforcement to provide their crime scene investigation. Most small and medium sized departments do not have dedicated crime scene investigators, and most crime scene investigators have received their education through on-the- job training from a more experienced officer. As a result, many crimes that could be solved are not, due to lack of resources and training of crime scene investigators.
The Gainesville Sun reported on May 17, 2012 that "Police missteps may plague Travon Martin shooting case". The City of Sanford has a population of approximately 53,000 residents yet they have no crime scene investigators. On the night of the shooting, there was no proper crime scene documentation, including a failure to take photographs of the suspect and the decedent, failure to look for transfer evidence on the ground or on the vehicle, and failure to save any impressions that could have forensically documented what happened at the crime scene.
The most famous criminal case in history, the O.J. Simpson case, was lost in part because of the lack of proper evidence preservation from a crime scene investigator. Instead of a bloody glove being photographed, bagged and labeled, and then put into evidence by a crime scene technician, the police officer picked it up himself, with the bloody glove being the centerpiece of the defense case.
Mike Thompson, who is the director of education and an instructor, has more than 27 years in law enforcement. "Police agencies need proper funding for crime scene investigators. The collection and preservation of evidence is essential for detectives to solve crimes."
Both the tangible and intangible costs of crimes have been calculated over the years. The New York Times, in an article titled "The High Cost of Crime", October 8, 2010, stated that a single murder costs society 17.25 million dollars. Each rape costs $448,532, each robbery, $335,733, and each burglary, $41,288. The researchers analyzed 2003 data from Arkansas, Florida, Georgia, North Carolina, New Jersey, Ohio, Oklahoma and Texas.
The National Institute of Justice estimated that the tangible loss annually amounts to 105 billion dollars, and that the intangible costs raise that figure to 345 billion dollars. "Each crime solved prevents countless other crimes because it is the same people who keep committing crimes until they are caught." Mike Thompson.
"Without good crime scene investigation, we run the risk of convicting innocent people, or letting guilty people go free." Robert Rush, defense attorney and instructor at the CSI Academy.
"The great thing about forensic evidence is it does not forget, it's not confused by the excitement of the moment. It doesn't have a bias, and it doesn't care whose side it supports. It is factual evidence that cannot perjure itself. It's only human failure to find it, study it and understand it that can diminish its value."
According to the U.S. Bureau of Labor Statistics, job opportunities for crime scene investigators are expected to increase by approximately 20% over the next five years as the judicial system continuously need corroborating evidence to prosecute crimes.
The median pay in 2010 was approximately $51,570, with a salary range of $32,000 to $84,000 per year.
The CSI Academy of Florida is currently offering a 300 hour, 7 week professional course. In addition, there is a 40 hour, 1 week basic course. Both courses will also be offered on an evening schedule for people who are working full time. The first pilot class is starting at the end of October, with regular classes beginning in January of 2013. Contact CSI Academy of Florida by calling 386-518-6300 or by visiting http://www.CSIAcademyofFlorida.com.