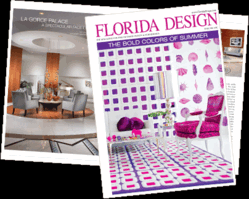 My pride and joy is the exotic cherry-wood panels.
Miami, FL (PRWEB) October 18, 2012
J. Design Group, a Coral Gables based Interior Design Agency, undertakes the transformation of the stunning La Gorce Palace in Miami Beach, one of the premiere "jewels" of the city, with spectacular inter-coastal and ocean views. Details on the project were published in an article in Florida Design magazine, a publication catering to fine living and furnishings, showcasing some of the most exclusive interior design services and projects in the state.
The article describes the work J. Design did at La Gorce, a historical landmark, founded in the early 1990s and highly valued by the city of Miami Beach, the surrounding areas, and local residents. La Gorce Palace hired the renowned J Design Group experts to update the look and feel of the property to reflect the 21st century life and style.
The outcome is yet another example of J. Design incorporating the spirit of Miami into the interior décor of the palace in less than a year. Jennifer Corredor, founder of J. Design Group expressed great pride in relation to the work achieved at the building. She is honored that they accomplished to give the palace that "wow factor" that they worked so hard for. And to be highlighted as a leading Miami interior designer in the elite Florida Design magazine. The art and skill of the firm's interior design is transpired in each and every project.
J. Design Group is a Miami interior design firm with over 26 years of experience. They offer a complete range of high-end interior design services and decoration for commercial and residential properties in various communities throughout South Florida. For more information or to contact them, visit their website at http://www.jdesigngroup.com.