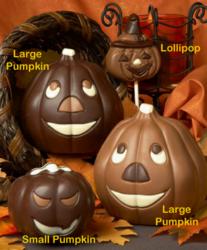 So whether it's pumpkins or pussy cats, skulls or scary spooks, it's always better in chocolate.
(PRWEB) October 20, 2012
"If all the headlines are to be believed, North Americans are in a frightfully good mood when it comes to Halloween spending this year," says Ecole Chocolat Founder Pam Williams, pointing to recent National Retail Federation and other research findings that show a record number of people plan to celebrate Halloween by buying costumes, decorations and candy – lots of candy.
Although most kids look forward to an evening of collecting free candy – of which the vast majority will be those little brand-name chocolate bars – many adults also enjoy Halloween as a low-stress, fun event where they can get creative and dress up as their favorite character, get together with friends and "eat some nice chocolate," says Williams.
"Since many more adults than ever before are getting into the mood by searching out or making costumes and then throwing or attending parties for adults, the call for more sophisticated treats isn't difficult to fill with good chocolate," says Williams.
And there's no trick to this: "Just fire up Find Chocolate!, dial in to Chocomap and it will show you where your nearest chocolate shop is. They're sure to have special little treats that will fill the bill," says Williams.
If you're in Chicago, for example, you'll want to check out Vosges outlets in Lincoln Park or at O'Hare Airport for their cute Day of the Dead Chocolate Lollipops. The Find Chocolate App will take you there.
Meanwhile, in the Baltimore area, A.Kirchmayr Chocolatier offers a range of chocolate pumpkins in both milk and dark. "One of my fondest memories of growing up in a small village in Bavaria is eating fine chocolates on special occasions. It was a tradition to give and receive these delicious candies, making celebrations even more memorable," says owner Albert Kirchmayr on his website. He's been in the chocolate business since 1985.
"So whether it's pumpkins or pussy cats, skulls or scary spooks, it's always better in chocolate," says Williams , who developed the Find Chocolate! app, which accesses more than 2,500 chocolate shops listed on chocomap.com website. More than 10,000 Android and iPhone users have downloaded the app, which is available for free at iTunes, Android Market and Amazon apps for Android.
Founded in 2003, Ecole Chocolat Professional School of Chocolate Arts offers a portfolio of programs for chocolate making – mastering techniques while gaining the expertise and business knowledge needed to become a professional chocolatier or chocolate maker. Ecole Chocolat's founder Pam Williams is the recipient of the Award of Excellence in Service to the Industry from the Fine Chocolate Industry Association. See our website: http://www.ecolechocolat.com.