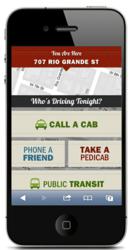 This campaign is a great example of the state using engaging ways to reach young adults.
Austin, TX (PRWEB) October 23, 2012
3Seventy, a leading provider of mobile marketing solutions, has partnered with Sherry Matthews Advocacy Marketing and the Texas Department of Transportation (TxDOT) to promote sober rides to young adults.
Created by Sherry Matthews Marketing, TxDOT's annual "Who's Driving Tonight?" campaign targets drivers in their 20s – those who are more likely to be involved in drunk driving crashes than any other age group – with options to avoid driving under the influence of alcohol. A key component is a mobile website that identifies an individual's location and serves up geo-targeted sober ride options including nearby taxis, bus routes, limo companies, and even pedicabs, The site also integrates with social media so users can reach out to friends to be their designated driver.
"This campaign is a great example of the state using engaging ways to reach young adults on their channel of choice, mobile phones," said Carrie Chitsey, CEO and Founder of 3Seventy.
Online and mobile ads, social media outreach, posters in bars, and notices on college campuses promote the mobile website. During the first month of the campaign, the site served up sober rides to more than 6,200 users.
"Mobile marketing gives TxDOT the opportunity to connect with our at-risk audience while they are drinking and at the critical point of deciding how they are going to get home safely. We wanted to empower them to make smart choices by making it easy to find a sober ride," said Kenna Williams, Digital Strategist at Sherry Matthews.
You can view the mobile website directly by entering http://www.SoberRides.org from a mobile device or text DRIVE to 70626.
About 3Seventy
3Seventy is a leading provider of mobile marketing solutions. 3Seventy's award-winning solutions allow clients to interact with their consumers by mobile channel of choice all within one easy-to-use platform. With an advanced portal, mobile campaigns can be quickly designed, customized and changed, while effectiveness can be instantly measured with detailed real-time reporting. The company's highly scalable, cloud-based technology enables companies to:

Rapidly design, deploy and analyze mobile engagement solutions using SMS/MMS, mobile websites and application development
Engage customers with real-time product info, coupons, sweepstakes, reward programs and surveys
Create mobile programs that achieve measurable, high ROI results
3Seventy works with leading companies such as AMF Bowling Centers, Hewlett-Packard, Pepsi, Playtex Sport, AT&T, Nestle, Caribou Coffee, Special Olympics, DMX, Young America, along with many software integration partners, advertising agencies and media partners. For more information about 3Seventy, please visit http://www.3seventy.com.
About Sherry Matthews
Sherry Matthews Advocacy Marketing is a leading full service advertising and marketing agency headquartered in Austin, Texas with offices in Washington, D.C. and Switzerland. The agency develops innovative communications campaigns that cause people to stop and think, engage, and make constructive behavior change in safety, health, environment, transportation, education, and nonprofit sectors. Sherry Matthews synchronizes research, strategy, and award-winning creative with the complete range of communications channels – advertising, public relations, outreach, branding and identity, media relations, digital and social media – to effectively tell our clients' stories and advance their objectives. The agency was founded in 1983 and built on the principle of using marketing communications to advocate positive change and influence the greater good. For more information, visit http://www.sherrymatthews.com.