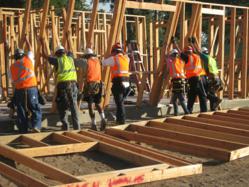 Most important, students learned to work as a team with enthusiastic and willing professionals who showed them the latest methods and materials used in creating energy efficient homes.
Anaheim, CA (PRWEB) October 21, 2012
Southern California Edison's John Morton for years has had the dream of creating an affordable green home with all the bells and whistles—solar powered electrical as a complete energy source, gray water plumbing, insulated windows, a roof and outer walls that have thermal protection and much more. When the dream became a reality, Morton, who serves on an advisory committee for North Orange County Regional Occupational Program (ROP) BITA, asked if the high school students could be involved. Program managers and instructors agreed on the spot to have the students frame the walls for the 1700 square foot home.
Students in ROP BITA programs at seven schools -- Anaheim, Brea Olinda, Katella, Los Alamitos, Magnolia, Valencia and Western High Schools -- built the exterior and interior wooden frames to the architect's specifications in their construction yards, and the frames were trucked to Irvine's Great Park building site.
The opportunity arose to develop a community classroom for the project, wherein students perform unpaid work alongside professionals who train them, and twelve students enrolled. Building Industry Technology Academy (BITA) students Sunny Kim and Spencer Smith from Brea Olinda High School; Destiny Delatorre and Nicholas Perez from Gilbert High School; and Andy Cruz, Angel Garcia, Astric Gonzalez, Samantha Kelley, James Montero, Valerie Morse, Chad Mullen, and Angel Zuniga from Katella High School helped to build the home this summer while earning credits for school.
Students were involved in every building process, including grading the land and pouring the foundation. They learned wiring, ducting, joining and plumbing skills, and even learned how to sink pylons into concrete. Most important, students learned to work as a team with enthusiastic and willing professionals who showed them the latest methods and materials used in creating energy efficient homes. Students in the community classroom portion of the academy program are required to work eight hours a week and attend class for three hours. BITA students generally worked far more than their requirement, and in fact, liked the work so much that they begged to stay and work (still for free) after the summer school community classroom session ended. During the classroom portion, students learned new skills or reviewed skills they already learned. Instructor John Puckett taught the students soldering for plumbing skills, and Lynne MacVean and her employees from Mammoth Electric taught them how to wire three-way switches.
After a year of being showcased in its current location, the home will be cut in half and trucked to its permanent location on a Habitat for Humanity site in Santa Ana, California, where it will house a disabled veteran.
The ribbon cutting and open house event on site at Irvine's Great Park on October 10 honored all involved in the building process. The chief executive officer of Southern California Edison, the publisher of ABC Green Home Builder, and the Irvine mayor and City Council members all praised North Orange County ROP students for their part in the construction of the house. Karen Nelson, assistant superintendent at ROP, expressed gratitude on behalf of the program and the students for the opportunity to participate in such a rich learning experience.
ABOUT North Orange County ROP
North Orange County ROP is a collaborative effort in career technical education by five school districts: Anaheim Union and Fullerton Joint Union High School Districts, and Brea Olinda, Los Alamitos and Placentia-Yorba Linda Unified School Districts, and serves 15 cities in the north Orange County region. It is accredited by the Western Association of Schools and Colleges, and its courses are certified by the California Department of Education. About 93 percent of its students are in high school; those remaining are adults who are enrolled in Health Sciences and Technology, Culinary Arts, Accounting, Masonry, or Business Technology classes for the blind and visually impaired. To learn more about North Orange County ROP, call (714) 502-5858, or visit ROP on the web at nocrop.us, or come by the North Orange County ROP Education Center Student Information Services Department, 385 N. Muller Street, Anaheim, CA 92801.