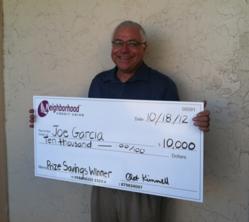 You are a prime example of what credit union membership is all about - working together to save money and build a strong financial future.
Dallas, Texas (PRWEB) October 19, 2012
Credit unions are known for integrity, reliability and commitment to their members, traits demonstrated in a tangible way Thursday when Dallas-based Neighborhood Credit Union surprised one of its members with a $10,000 prize – a reward for his good savings habits. The much-anticipated delivery occurred on International Credit Union Day, celebrated around the world to highlight the "people-first" philosophy of not-for-profit credit unions.
Shock turned to delight as Jose "Joe" Garcia – in between shifts at Lowes – opened his apartment door Thursday morning to Neighborhood Credit Union leaders holding a giant $10,000 check with his name printed in bold letters across the front.
Let me give you a hug, I'm a hugging kind of guy," Garcia quipped as he leaned in to receive his "check" from Carolyn Jordan, Senior Vice President of Neighborhood Credit Union. (The actual prize was deposited into his savings account.)
Jordan explained to Garcia that his name had been drawn from the ranks of the credit union's Prize Savings Account holders due to his superb saving practices.
"We appreciate so very much the longtime relationship you've had with our credit union and hope your excellent saving habits serve as an inspiration to others to see that saving money truly pays off in the future," said Jordan. "Giving you this prize is a great way to celebrate International Credit Union Day. You are a prime example of what credit union membership is all about – working together to save money and build a strong financial future."
Neighborhood Credit Union created the Prize Savings Account to encourage more people to save money and plan for their future. The account rewards good saving habits with prize drawings throughout the year.
Garcia is a long-time member of Neighborhood Credit Union. He opened his first account in the 1980s when his in-laws, also members, encouraged him to join the credit union. Neighborhood Credit Union then known as Dallas Postal Credit Union.
A well-known and loyal member of the North Dallas branch, Garcia has a Prize Savings account, a Kasasa Checking account, and Neighborhood Credit Union's newly launched credit card. He explains that Neighborhood Credit Union has never treated him like anything less than family.
"It's the personal service," he said. "They know my name, they are always glad to see me and I'm more than just a number. We're a family."
Garcia raved about the service he receives from the staff, especially noting the excellent service from North Dallas Branch Manager Luis Arreola, who was present to deliver the prize, and Anitra Wilson.
"Anitra is just like a daughter," he said. "She always has a smile for me."
So how will Garcia put his new-found wealth to use?
"I'm all paid up on my bills, so I'm going to have some fun with it," he said, adding that he'll take more trips to visit his daughter in Chicago and contribute some to savings.
How the Prize Savings Account works: Neighborhood Credit Union members receive one drawing entry for every $25 monthly average balance in their Prize Savings Accounts. The greater the savings, the greater the chance a member has of winning. Each month, drawings are held for prizes including $1,000 cash awards. At the conclusion of each year, a $25,000 Grand Prize winner is drawn. And this new $10,000 award is designed to encourage people to keep saving throughout the year.
About Neighborhood Credit Union: The oldest credit union in Dallas (chartered April 18, 1930), Neighborhood Credit Union is a not-for-profit financial organization serving Dallas and Ellis counties, as well as the city of Arlington. With branches in Oak Cliff, North Dallas, Arlington, Mesquite, Duncanville, Lancaster, Richardson and Waxahachie (and soon to be in Grand Prairie) and assets topping $300 million, Neighborhood Credit Union has a membership of more than 31,000 and continues to welcome new members daily. For more information on Neighborhood Credit Union, call (214) 748-9393 or visit http://www.myncu.com.
About International Credit Union Day 2012: "Members Matter Most," and that's why credit unions around the globe are joining forces to show their members just how important they are. International Credit Union Day takes place on the third Thursday of every October. Learn more: http://www.cuna.org/finlit/icuday_index.html.