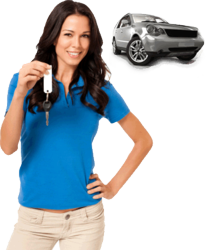 Complete Auto Loans' process is far easier than the standard dealership model of customer service.
Seattle, WA (PRWEB) October 21, 2012
Negotiating and deciding on a car to purchase is just the first step to buying a car. Unfortunately, getting the keys to a new ride won't happen until the right auto financing is acquired. Going through a dealerships finance and insurance department (F&I) can be enough of an ordeal to make a person regret buying a new car in the first place. However, Complete Auto Loans has a unique auto loan process that proves to be fairly simple for the person looking for Bad Credit Auto Loans.
What usually happens when a person goes through a dealership's finance department for a family or student auto loan is a lengthy credit application process. The dealer will take time to acquire a copy of the person's credit report. If the credit meets the dealers standards the person may continue to the next step. The dealer will then often sell that person's contract to a bank, credit union, or finance company at a wholesale price. If no one wants to buy the contract the process is, again, stopped here. If someone does purchase, then that person can go on to the next step. After the person is accepted the (APR) will generally be negotiated which usually results in a high interest auto for the car purchaser.
However, the experience at Complete Auto Loans is quite different. One can fill out an application form that will take 1-2 minutes, then wait 90 seconds for an answer. Complete Auto Loans does all the work by looking for the best auto loan lender to car buyer fit.
It's easy to learn from the comparison that Complete Auto Loans' process is far easier than the standard dealership model of customer service. The stress free model makes car buying easy. Most people feel that buying a car should be a fun experience. Being able to have fun, no matter one's credit score condition, bad credit auto loans is what makes Complete Auto Loans lending process so unique. It's embarrassing, stressful, and sometimes unexpected when someone is forced to have a background check done for them when all they need is a car, not rejection.
Complete Auto Loans also has a 100% approval rate. Everyone is able to apply. Time is valuable. no more haggling and worrying about whether one will be able to quality for their next car purchase. Times are tough but the need for cars is growing stronger then ever. That's why a 100% approval rate is good. Complete Auto Loans can help meet the needs of families needing to up-size their car or purchase a reliable vehicle for work.
Complete Auto Loans.
527 N Macleod #4
Arlington WA 98223