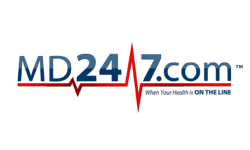 MD247 Uses Facebook.
Tampa Florida (PRWEB) October 21, 2012
Telemedicine provider MD247 announced on Sunday that it would be implementing a unique approach toward organically building its Facebook presence by inviting all program members, as well as people interested in telemedicine, to participate in the building of the online community. MD247 suggested that program members visit the Facebook page at http://www.facebook.com/md247dotcom, and share their personal thoughts on the MD247 program as well as telemedicine as a whole. The goal of the innovative program is to allow laymen to create the online voice of MD247 on Facebook, thereby allowing skeptics to review the messages and understand that the phrase "telemedicine rip-off" is completely untrue.
MD247 came to the decision that interaction of the telemedicine program members on the Facebook page was a necessity after looking at how consumers make online purchase decisions. The MD247 Marketing Team recognized that consumers are now visiting Facebook, like they once visited Amazon, to review the product choices of their friends across the entire country. Choosing to utilize a canned broadcast system of Facebook posts, totally ignoring the thoughts and engagement of the greatest telemedicine assets (the consumers), was considered an improper approach by the MD247.COM Marketing Team. The ultimate goal of the Facebook plan is to get everyone comfortable enough to participate on the Facebook page located at http://www.facebook.com/md247dotcom.
Seminole Florida based MD247 (MD 247; MD/247; M.D. 247; MD247.COM) provides discounted telemedicine healthcare services nationwide to families, and discounted wholesale telemedicine healthcare to businesses. MD247 has successfully provided 25,000 people the ability to chat with a doctor twenty-four hours a day, talk to a nurse twenty-four hours a day, receive discounted prescription drugs and receive discounted in-person healthcare services. In addition to discounted healthcare services, MD247 provides support to groups supporting the employment of veterans of the United States Armed Services. MD247 services, as well as informational blogs, can be found for review online at http://www.md247.com.