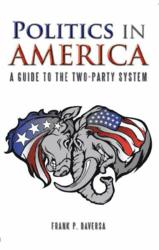 An informed electorate is our nation's best resource.
Houston, Texas (PRWEB) October 24, 2012
Frank Daversa, author and writer, recently published his new book "Politics in America: A Guide to the Two-Party System" with AuthorHouse. It introduces the political novice in easy-to-understand prose to the two-party system in this country. It ranges from the various constituents who comprise each party to their basic philosophies, and proceeds all the way through a lively discussion of pertinent issues in the political arena today. Readers should come away with a thorough understanding of politics to make an informed decision on Election Day.
The book begins by describing the types of people who make up the respective political parties. Liberal to conservative democrats and libertarians to social conservatives are covered. Next, it discusses the parties' respective histories, ranging from 1800 to the present day. Then it explains the ideologies of each, from social issues to economics to the environment. This is followed by a summary of landmark Congressional legislation, from the Glass-Steagall Act to the Affordable Care Act (a.k.a. "Obamacare"). Next, it provides terse commentary on issues relevant to the 2012 election, from taxes to abortion to national security. Lastly, it summarizes concepts every voter should know before casting their vote in a national election.
Frank is based in Houston, TX. It all began there back in 2011, when he was thinking of how many prospective voters learn about the electoral candidates from campaign ads, gossip columns and word-of-mouth. Being a political junkie, he envisioned "What if a book was published explaining the political parties in simple terms everyone could understand? How much better for the country would it be if an informed electorate went to the polls?" That is how "Politics in America" was born.
It took approximately one year to write and 3 months to publish. Sales went live on October 16.
This is the same author who brought you "Young Adolf: An Alternate History" also published by AuthorHouse. For those not familiar with the story, it juxtaposes the real-life childhood of Adolf Hitler with a fictional female character two years his senior. The two hit it off and eventually fall in love, until a catastrophic event separates them forever. The story ends by asking the reader, "Was young Adolf's love for her strong enough to change his personality for the better—and thus alter the course of History?"
For more information, please contact Frank Daversa at newworlds25(at)hotmail(dot)com, or by calling 281-345-7995. To purchase the book, please visit his bookstore.
About the Author:
Frank P. Daversa was raised in South Hempstead, NY. It was during college that he honed his writing skills. Shortly after receiving his four-year B.S. degree with a 3.96 GPA, Frank moved to Houston, TX. He worked 14 years in the corporate world before becoming a writer in 2007. Frank had his first web article published in 2008. Later that year, he began collaborating with author Joseph V. Franciosa on his recent novel, "Young Adolf: An Alternate History." In 2011, that creative vision became a reality with the publication of his first book. During that same year, he began writing his first work of non-fiction, "Politics in America: A Guide to the Two-Party System". In 2012, his latest effort was realized with the publication of his second book. Frank looks forward to publishing another non-fiction book about spirituality in the time that follows.