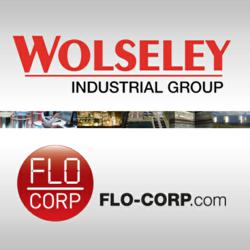 "FLO-CORP is a world class organization with the experience and proven record of channel collaboration that gives them an advantage over other providers in the industry." - Phillip Gibbons, Wolseley Industrial Group
Wadsworth, OH (PRWEB) October 23, 2012
Wolseley applies stringent standards to vendor selection allowing only industry leaders with innovative products in their supply chain. FLO-CORP fits the aforementioned requirements and joins Wolseley as a preferred supplier for flow, level, and display instrumentation.
"Wolseley Industrial Group is excited about the addition of FLO-CORP to our preferred supplier portfolio representing the best in class providers of products and services. As with all of our preferred supply partners, FLO-CORP is engaged in working with our Sourcing and Site personnel driving value through the supply of product, efficient logistics, delivery of new products, processes and technologies. FLO-CORP is a world class organization with the experience and proven record of channel collaboration that gives them an advantage over other providers in the industry," explains Phillip Gibbons, Senior Sourcing Manager at Wolseley Industrial Group.
FLO-CORP's extensive experience in flow and level measurement across a wide variety of industries allows it to be an ideal choice for Wolseley's integrated service offerings. FLO-CORP is able to bring expertise to a specific area of Wolseley's vast capabilities and the partnership will provide added value to end users in product quality, innovation, and customer service.
Wolseley has developed a host of product offerings and solutions for the automotive, aerospace, energy, semiconductor, and healthcare industries in addition to serving general industry needs. Take energy and semiconductor as an area of industrial focus. Wolseley has provided integrated solutions for Alcoa and Freescale Semiconductor exceeding customer expectations with high quality products and expert technicians.
Wolseley's work in the energy industry is complimented by FLO-CORP's experience in the same. "The correct flow meter depends on a lot of factors and selection is not a 'one size fits all' process," says Dave Grumney, President of FLO-CORP. Specifically, FLO-CORP's recent solutions for customers in hydraulic fracturing and oil refining are prime examples. While volumetric flow meters were the right choice for a Marcellus Shale hydraulic fracturing site in Pennsylvania, an Alaskan pipeline project was better serviced by positive displacement flow meters. All metal volumetric flow meters meet the appropriate needs for durability and particulate matter for the former; whereas, positive displacement meters supply the required low flow accuracy for oil measurement in the later.
These two examples are simple at surface level. However, decades of experience come together to weigh all the factors of each application ensuring the proper meter is ordered and configured correctly the first time. And FLO-CORP recommends meters that will stand the test of time considering factors such as corrosive resistance, extreme temperatures, high pressure, sticky substances, and many others. With FLO-CORP on its team, Wolseley can offer the best integrated solutions to customers knowing measurements will be accurate and reliable.
About Wolseley
Wolseley Industrial Products – Integrated Services division supports industrial customers in the U.S., Mexico, and Canada. Wolseley is the industry leader in providing supply chain services such as professional procurement, material handling, inventory management, and data capture/reporting services to name a few. Wolseley is an organization of professionals delivering efficiencies and cost saving process improvements.
About FLO-CORP
FLO-CORP (Flow Line Options Corp.) is committed to providing properly selected and configured flow, level, and display products with a focus on innovation and customer service.  In 1988, FLO-CORP was incorporated in the State of Ohio and started as a small distribution company.  In the last five years, FLO-CORP has moved past distribution and into manufacturing our own line of products.  Through manufacturing, we have gained more control over origin of product, quality, and lead times.  Furthermore, FLO-CORP now has creative control in the development of new products.  We can focus on adding the functionality and features that will best serve our customers.  FLO-CORP's management of quality, lead times, and innovation come together allowing us to provide more product value to our customers.  We remain committed to personal customer interaction, where help can still be found without hearing an automated phone system.  The FLO-CORP family is dedicated to working hard for our customers by using over three decades of combined experience in flow, level, and display.