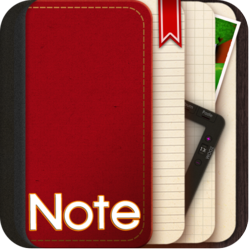 NoteLedge for Windows Phone Updated to Enable Smooth Note Creation
Tainan, Taiwan (PRWEB) October 24, 2012
Kdan Mobile Software has released a major update to enhance its versatile note-taking application, NoteLedge for Windows Phone. The latest update aims to enrich users' note-taking experience by providing the options to select text fonts, colors, and sizes as well as adjusting the opacity, sizes, and colors for sketching. The new version of the app now supports multiple languages in its interface including Japanese, Traditional Chinese, and Simplified Chinese to serve its growing international user base. Moreover, the Company has added a package of themed stamps to celebrate the upcoming Halloween.
Following the success and strength of its highly-praised note-taking app, NoteLedge for iPad and iPhone, Kdan Mobile released NoteLedge for Windows Phone to reach a wider audience. NoteLedge for Windows Phone is a comprehensive note-taking application that combines handwriting, typing, image editing, audio, and video recording in one single package. "The latest update further enables customization on the user created contents," commented Chris Su, Product Design Director of Kdan Mobile. With constant improvements, Kdan Mobile believes the Company is moving on the right track to better customer satisfaction.
"The NoteLedge series is designed to optimize users' workflow and inspire users' creativity with its powerful tools," remarked Su. The iPad and iPhone version of the app have gained wide recognitions and have been featured as "New and Noteworthy" in the Apple App Stores of various countries such as Japan and Canada. "We're confident that Windows Phone users will also fall in love with this multi-functional app," added Su.
About Kdan Mobile Software
Kdan Mobile Software is a company specializing in mobile application development. Kdan aims to bring a ubiquitous mobile operating environment to end users by providing innovative service and powerful technology. © 2012 Kdan Mobile Software Ltd. All Rights Reserved.