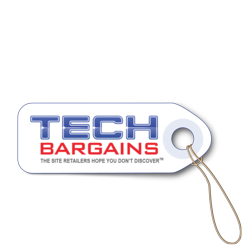 Too high a price and too small a screen size are real concerns for consumers when it comes to the iPad Mini
San Francisco, CA (PRWEB) October 23, 2012
TechBargains.com, a leading deal aggregation website for electronic products, released additional results from its iPad Mini Predictions survey. It reveals one in three respondents who do not plan to purchase the iPad Mini believe the tablet may be too small and one in five say the iPad Mini will be too expensive. Of those respondents who are undecided on whether they will purchase the iPad Mini, 70% speculate whether they have a need for a smaller iPad and 30% believe the price will likely be too high. One in four respondents who plan to purchase the iPad Mini said they want to switch their current tablet to a smaller iPad. According to the survey, 18% of respondents plan to purchase the iPad Mini, 32% are undecided and 50% will not buy the iPad Mini.
"Too high a price and too small a screen size are real concerns for consumers when it comes to the iPad Mini, according to our survey results," said Yung Trang, president and editor-in-chief of TechBargains.com. "The smaller tablet may not be as highly desired as other Apple products on the market today."
Of those who are planning to purchase the iPad Mini, 14% indicated a plan to wait in line the day it is released, one in five plan to buy it online as soon as it is available and 66% don't have a set time frame for purchase.
The survey was conducted on TechBargains.com in August and had 1,332 respondents. In comparison, a similar survey conducted by TechBargains.com in February revealed interest in purchasing the third generation iPad was nearly three times greater than the iPad Mini. The results revealed 48% of respondents were interested in purchasing the new iPad, 35% were undecided and 16% were not interested in buying the iPad.
About TechBargains
TechBargains is a deal aggregation website that combines intelligent curation with real-time price-value discovery algorithms. TechBargains uses this technology to highlight the best deals and coupon codes on the internet each day. TechBargains is a division of Exponential Interactive (http://www.exponential.com), a global provider of advertising intelligence and digital media solutions to brand advertisers headquartered in Emeryville, California that offers solutions in 26 countries worldwide. For more information visit http://www.techbargains.com.