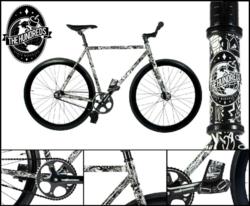 (PRWEB) October 23, 2012
Pure Board Shop has the rare opportunity to allow a lucky fixed gear fan to get this $600 bike for $499.
State Bicycle Co. and The Hundreds, have come together for a fixed gear bike.
Featuring a black-and-white all-over print frame, custom Holdfast straps and Animal pedals, the two-wheeler reflects a sleek design recalling attributes distinct to each brand. In addition, there is also an exclusive all-black colorway.
State Bicycle Co. is a fixed gear/single speed bicycle company based out of Tempe, Arizona.
The Hundreds apparel is inspired by LOS ANGELES LIFESTYLE / CALIFORNIA CULTURE and Southern California's skateboarding, surf, punk, and hip-hop cultures. The design is reminiscent of 1980s surf-culture t-shirts, independent skateboard company apparel of the 1990s, and the advent of "streetwear" at the end of the millennium. The line is comprised of graphic t-shirts, denim, wovens, fleece, outerwear, headwear, and accessories. In late 2008, The Hundreds also launched a shoe program monikored The Hundreds Footware. And in 2009, The Hundreds' optical program, The Hundreds Eyeware, debuted to the public.
Currently, The Hundreds is stocked in over 400 accounts in every major city of the world.
More than just an online magazine or clothing line, The Hundreds is a lifestyle project that remains personal and direct, reflective of the community and culture, and dedicated to its fanbase.
Pure Board Shop opened its doors on May of 2005. After co-owning Evolve Board Shops in Annapolis and Bethesda Maryland from 1993 to 2003, Robby Roberts put Pure on the streets a few years later. Its ease of access and parking make it a destination shop for riders and urban street wear fans alike. With their mix of products and variety in skate, snowboard , surf and exclusive street wear and shoe brands Pure's customers extend far beyond their Annapolis location. Pure prides itself on customer service being its number one priority, with product knowledge and having the right product mix a close second. The store and the website feature an ever growing inventory from brands such as Nike SB, Nike Snowboarding, Travis Rice,Lib Tech, Adidas skateboarding, Vans, Levi Skateboarding, Diamond, HUF, LRG, Neff, RVCA and The Hundreds, as well as a large selection of Sunglasses and other accessories. The shop also prides itself on having the largest inventory of longboard equipment in the area; with brands like Landyachtz, Rayne, Caliber, Cult, RAD, Abec11 and many more. Pure puts on skateboard jams and video premieres at their local skateboard park as well as sponsors many longboard slide jams and races in the Metro Area.
Contact Pure at 410-267-7669.
Their new website will be up soon; pureboardshop.com