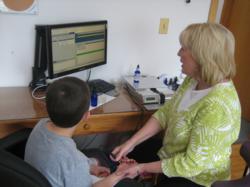 MyZymes are an effective digestive enzyme product because it contains a higher activity level of protease, amylase, lipase, cellulose and also includes six other enzymes. Higher activity levels assist in digesting more proteins, fats, and carbohydrates.
Orland Park, IL (PRWEB) October 23, 2012
Vital Health, Inc. introduces MyZymes, a chewable digestive enzyme for children. MyZymes is part of the Vital Essence supplement line that is offered by Vital Health, Inc. MyZymes helps the body gain nutrients from food and plays an essential role in facilitating absorption.
Barbara Griffin, NMD, CNC, Certified Gluten Practitioner and owner of Vital Health, Inc. remarked, "Great health comes from the body's ability to digest nutrients and eliminate waste. This principle holds true from the start of human life, throughout childhood, and well into adulthood. Optimal digestion is dependent upon a balance of digestive enzymes in our system and the ability to manufacture enough necessary enzymes. When that balance is disturbed, digestive ailments and the long term diseases that accompany them can result."
MyZymes are a highly effective digestive enzyme product because it contains a higher activity level of protease, amylase, lipase, cellulose and also includes six other enzymes. The higher activity levels assists in digesting more proteins, fats, carbohydrates and fiber. "Infants and children are vulnerable to the same digestive ailments adults can suffer. I observed a pattern within the infant and children population of my clients that at the one of the root causes of their presenting symptoms was a lack of digestive enzymes. That was one reason when I introduced a digestive enzyme specifically targeted to a child's evolving needs."
How do digestive enzymes support the digestive process?
Enzymes are one of the most essential elements in our body. Enzymes are energized protein molecules found in all living cells. They catalyze and regulate all biochemical reactions that occur within our body. Enzymes also play a part in digestion. They break down proteins, fats, carbohydrates and fiber making it possible to utilize the nutrients found in those foods while removing the toxins. Enzymes turn the food we eat into energy and allow this energy to be used in the body. Their potency can be determined by improved blood and immune system functions. Enzymes make it possible for us to fully utilize the nutrients we consume.
Why are digestive enzymes supplements important?
Digestive enzyme supplements help you digest your meals more efficiently and deliver the nutrients from your food to your body. The supplemental digestive enzymes will break down food, thus saving the body from having to release as many of its own enzymes. This allows the body to devote its attention to supplying more metabolic enzymes so the organs and tissues can carry on their daily work. Enzyme supplements are clinically proven to reduce the effects of bloating, gas, occasional heartburn and occasional acid reflux.
How can digestive enzymes help strength the immune system?
Digestive enzymes can help with digestive problems, but since they help strengthen your body's immune system, then their uses are much broader than just digestion related discomforts. There is a connection between the strength of our immune system and our enzyme level. The more enzymes we have, the stronger our immune system will be.
Can digestive enzymes supplements help in childhood conditions like Attention Defect Disorder (ADD), autism and asthma?
Yes. An inability to absorb the food a child takes in, often creates a reaction in the body of either deficiency, or an immune system response due to inflammation. Both of these conditions are the result of undigested food particles entering the blood stream, which causes a condition known as leaky gut or dysbiosis. All of these factors set the body up for other diseases. ADD, obesity, autism, asthma, depression, and diabetes actually stem from poor food choices and faulty digestion. Taking digestive enzyme supplements can help support a weakened digestive system.
Dr. Griffin concluded, "A child's ability to digest their food and access the nutrients to grow health and strong, can be highly supported by taking enzyme supplements. Digestive enzymes can be given to a child starting with the day they come home from the hospital, or be taken by the mother if she is breastfeeding. MyZymes, which are chewable and taste-friendly for children, can greatly improve digestion level and immune function."
Dr. Griffin recommends following-up with your medical doctor before beginning a new supplement or treatment plan. MyZymes is available at Vital Health, Inc. and is part of the Vital Essence supplement line.
About Vital Health, Inc.:
At Vital Health, Inc. Dr. Griffin integrates a whole body approach with the intention of facilitating wellbeing and optimal health amongst her clients. Dr. Griffin's specialties include: traditional naturopathy, nutrition, EAV Meridian Stress Assessment, Food Sensitivity Screening, Environmental Screenings, Iridology, SKASYS, Live Blood Cell Analysis as well as established integrative therapies such as Neuroemotional Therapy, Neuromodulation Technique, Cold Laser Therapy, Emotional Stress Integration and Neuro-link Technique. In addition, Jade Derma Ray Lymphatic Massage and Bio Cleanse Foot Detox are also available at Vital Health, Inc. For more information please visit Vital Health's website at http://www.vitalhealth.org.