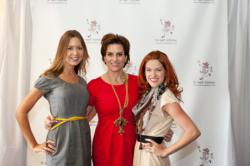 I strongly believe you learn best by getting hands-on experience and that is what we are providing at Uncensored! this year. - Marley Majcher, The Party Goddess!
Los Angeles, Calif. (PRWEB) October 25, 2012
With the holiday season just around the corner, Celebrity and Corporate Event Planner Marley Majcher, founder and CEO of The Party Goddess! is sharing her top tips for "Celebrating like a celebrity without breaking the bank." From planning big holiday bashes to producing intimate soirees for A-list celebrities to holiday parties the entire family can enjoy, Majcher is known for her unique, entertaining and fabulous style.
Thanksgiving with a Twist
o Fragrant centerpieces – use herbs as a centerpiece and give guests a potted one as a gift
o Add some color - Fill vases with kumquats, acorns or walnuts in their shells, spray painted gold! Top with flowers in a single, complementary shade.
o Kid-friendly crafts – At the children's table include colorful leaves to create an arts and crafts project. It is a great way to get the adults involved too! Make a "thankful" Thanksgiving tree out of construction paper and leaves and write down what everyone is grateful for.
-Christmas/Holiday Party ideas
o Save Some Green! Take advantage of a fun, convenient Evite to be "paper-free" for your invitations. They also track your RSVP's and send guests reminders prior to the party!
o Keep the Bar…Ditch the Tender! Have a DIY bar and let guests create their own specialty cocktail for the evening. Provide a small HOW TO chalkboard menu with some easy cocktail recipes like an Adult Hot Chocolate or Mint-tini!
o Festive Feast! A potluck is the perfect way to save money this Holiday season. Ensure there will be no duplicates this year by having guests post what they're bringing on the comment section of the Evite.
o B-I-N-G-O! Spruce up this nostalgic game this holiday season and get all ages involved. You can find a holiday Bingo template online. Just add some Hershey Kisses for the place marker! Keep the cards for many years to come and have them laminated!
Majcher is also preparing to share her secrets to success with Event Planners from around the United States at her annual conference, Uncensored!. This intense three-day hands-on conference is designed for event industry professionals to help them refine and define their client base, refine their marketing budget and increase their brand through solid PR and social media.
"I strongly believe you learn best by getting hands-on experience and that is what we are providing at Uncensored this year. Our theme is The Celebrity Apprentice! Borrowing from the popular projects and tasks seen on the popular show, the participants will team up to create proposals, PR plans and social media strategies," explains Marley Majcher, Founder of "The Party Goddess!" and Uncensored! 2012.
Sponsors and Presenters for Uncensored! 2012! Include Godfather Films, Omni Hotels and Resorts, Cookie Advantage, Pure Gear, TDR Brands & Stylish Consignments, CNN Special Projects Producer Christopher Dawson, Tami Forero of Forte' Events, Jennifer Horsley of Habitat Events, Heather Vreeland of Occasions Magazines, and Kristi Sanders and Lisa Kraus of Plan Your Meetings.
There are still a few tickets available for the conference. For more information and to sign up for Uncensored! 2012, visit http://www.ThePartyGoddessUncensored.com.
About Marley Majcher
Marley Majcher is the author of But Are You Making Any Money? and the CEO of The Party Goddess!, a nationally acclaimed full-service catering and event planning company that originates all aspects of large scale functions for A-list celebrities, social and corporate clients alike. Some of her A-list clients include Sofia Vergara, Kelly Preston, Leona Lewis, Jenna Elfman, Laila Ali, Pierce Brosnan, Britney Spears, Katherine Heigl, Snoop Dogg, Jennifer Love Hewitt, and many more. Majcher has also had numerous appearances on every major television network including ABC, CBS, ABC, MTV, E!, HGTV, Style, Bravo, and FOX, as well as featured articles and interviews in such publications as The Wall Street Journal, Chicago Tribune, The Los Angeles Times, Fortune, People, OK!, Us Weekly, InStyle, BusinessWeek, Entrepreneur Magazine, and a list that grows by the day. For more information, visit MarleyMajcher.com.