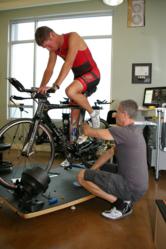 At 3D Bike Fit we are taking the guesswork out of cycling
San Francisco, CA (PRWEB) October 24, 2012
3D Bike Fit created the ultimate bike fit experience utilizing its exclusive approach of combining and advancing the best bike fitting systems available in its new state-of-the-art San Francisco fit studio. At its new, permanent location, 3D Bike Fit will more conveniently serve more Bay Area and out-of-town clients thanks to a larger staff and additional high tech, custom designed fitting stations.
"At 3D Bike Fit we are taking the guesswork out of cycling," said 3D Bike Fit founder, Kevin Bailey. "We've progressed the latest bike fitting technology and through our understanding of the human body and biomechanics, we help riders pedal with increased power, efficiency and comfort. Beyond those important ride benefits, we also help each client better understand their body and unique requirements."
3D Bike Fit techs took the best fitting systems, Retul and Specialized Motion Capture, and enhanced them to create the most advanced bike fit studio in the world. With its exclusive ability to perform both a two-sided Retul capture and a Specialized video capture (from four sides) simultaneously in concert with custom computer and software systems, Bailey and co. collect more rider data in every fit. Clients can also watch, in real time, what the fitters are seeing. When changes are made, the difference can be felt and even seen by the client, making the process and cycling biomechanics easier to understand. Each of the studio's custom designed fit stations use embedded, integrated cameras and computer systems to collect and analyze rider data.
3D Bike Fit offers several options for beginner and experienced cyclists to improve their cycling experience. 3D Bike Fit staff help every rider select the most appropriate fit and all fits are performed by appointment, ensuring undivided attention for both the fitter and client.
The Pro Fit is 3D's most extensive and detailed fit that analyzes the most rider data. The entire process requires four to five hours and ensures that the competitive rider leaves in his or her most optimized position. No stone is left unturned in 3D's Pro Fit thanks to the use of both Retul's 3D Motion Capture and Specialized's Video Capture in real time.
When purchasing a new custom bike, the first step should be 3D's Sizing Pro Fit. Through the four to six hour process, this fit will help the new bike fit perfectly after purchase. Based on the Pro Fit above, but performed on a Retul Muve adjustable stationary bike, the Sizing Pro Fit starts with a clean slate and takes the trial and error out of a new bike.
The Advanced Fit requires three to four hours and thanks to 3D's improved, dual-sided Retul system, riders 3D fitters take more captures and analyze more data than typically performed, helping riders gain more from this fit.
The 3D Body Geomety Video Analysis Fit uses 3D's unique, four camera Specialized Video Capture technology. Shown on a 50-inch HD flat screen, the client gains a better understanding of how their body should be positioned on a bike.
The studio's least expensive fit, the 3D Bike Fit, offers laser knee tracking, orthotic and leg length discrepancy assessments. Intended for cyclists new to the sport, the 3D Bike Fit will ensure that riders enter the sport with a proper fit.
Recognizing that not every bike fits every rider, 3D Bike Fit offers a host of product options to help the bike fit at key rider touch points on the bicycle.
Riders will incur no unnecessary expenses, due to trial and error, on stems, handlebars, pedals, custom orthotics, saddles or seat posts.
About 3D Bike Fit:
After a decade of study, certifications and hands-on experience in bicycle retail and fitting, Kevin Bailey designed and built 3D Bike Fit to allow riders to experience pain-free cycling following his own recovery from personal injury. From its unprecedented, exclusive approach using the latest fitting technologies to the personal passion for cycling from every staff member, 3D Bike Fit provides the world's best bike fit. For more information, visit http://www.3dbikefit.com.
###