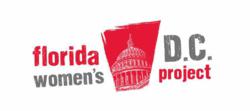 As a woman, I am deeply offended that President Obama believes that women 'Vote with their lady parts.'
Orlando, FL (PRWEB) October 23, 2012
The October 16, 2012 debate was set to include a focus on women's issues. While the debate brushed upon the topics of abortion, contraception, and women's pay, the Florida DC Women's Project unveiled a powerful video this week that speaks to the real growing concern women across America feel regarding issues that are putting our nation and future generations at risk – the economy, unemployment, the real estate market, and small business.
The Florida Women's DC Project is also releasing radio PSA spots in targeted Florida areas that strive to educate women about the alarming statistics they are facing. Since 2009, there have been millions of jobs lost. Women have taken the hit losing close to 70% of the those jobs. African American and single women's unemployment rate has increased.
"As a woman, I am deeply offended that President Obama believes that women 'vote with their lady parts', as a recent campaign e-card indicated. It is demeaning to women to think that we are more concerned with free birth control and abortion on demand, and are not concerned about the $16 trillion debt passed on to our children." states Dr. Imogene White of the Florida Women's DC Project. "Like our video says, we need to vote like our life depends on it because it does."
The Florida DC Women's Project video can be found by following this link: http://www.youtube.com/watch?v=XoQv2-o72dI&feature=youtu.be
ABOUT THE FLORIDA WOMEN'S DC PROJECT:
The Florida Women's DC Project serves to engage women from all political parties in the political process and to unify and move beyond the mere "hope" that 56% of American women voted for in 2008. Through networking they reach out to the ever widening circles of disenfranchised women and empower these voters to change the course of America through facts and action.